Outdated technologies and unimproved living conditions of employees at IPs
Published: July 03, 2014
According to the latest survey, only 24.61% of total production by businesses located in Da Nang's industrial parks (IPs) was exported to foreign countries. The main reasons are thought to be that local businesses have yet to create their own major products such as consumer goods, equipment and machines due to their outdated equipment and technologies. Most of them are involved in implementing just one stage in the production line, particularly the final stage. This stage usually includes the assembly and finishing of small components of products such as earphones and electric motors.
For this reason, recruited employees at local businesses are only required to have good health and be educated from grades 9 to 12.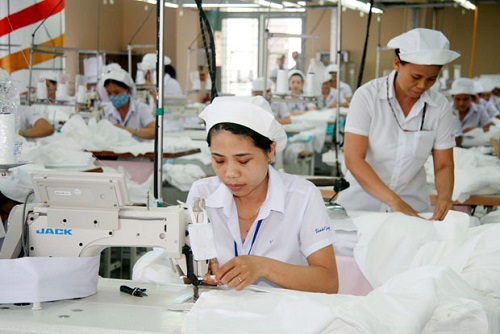 Workers at a textiles and garments company
There are now over 60,000 people working in the city's 6 industrial parks, and they are in need of apartment buildings covering an area of 280,000m2. Over recent years, the local authorities have issued many preferential policies to support the construction of apartment buildings for IPs workers. However, many projects have been cancelled.
For many years, local businesses have focused on improving their facilities without paying much attention to improving the living conditions of their employees. This has resulted in reduced production capacity of their workers.
.