Solutions to environmental pollution at vacant land lots needed
Published: July 02, 2014
The Vice Chairman of the Da Nang People's Committee, Mr Nguyen Ngoc Tuan, recently chaired a meeting to discuss ways to deal with the problem of environmental pollution at vacant land lots.
There are now a total of 142 vacant areas in all the local districts. In Hai Chau District, for example, there is a 37,493m2 vacant land area set aside for the construction of the Viet Nam Circus Federation-developed national centre for circus and synthetic arts. The area has been overgrown with weeds and covered with domestic waste for the past 4 years. Also in this district, another area for the building of a complex has been handed over to the Lighthouse Tuyen Son company by the Daewon Cantavil Joint Stock Company and is currently empty. Also, there is now an 88,176m2 vacant area on the approach road to the Tien Son Bridge. The area has been earmarked for the Krever Development Company-developed high-class holiday resort project.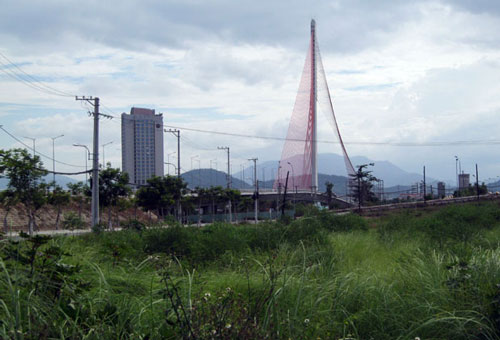 An vacant area near the Tran Thi Ly Bridge
Vice Chairman Tuan said that 3.4 billion VND from the city's budget has been spent on dealing with the problem of environmental pollution at all these local vacant areas. The emphasis has been on resolving contaminated vacant land lots in the inner-city, especially on major streets. Despite the many strong measures taken by local agencies, the problem has yet to be resolved effectively and it has adversely affected the aesthetics of the local urban landscape. He added that the reasons why there are so many vacant areas include the negative impacts of the global economic downturn, and the frozen real estate market.

.