Beach service providers learn from Thai tourism experiences
Published: December 05, 2014
Representatives from 20 tourism service providers along Da Nang's My Khe Beach visited Thailand's Bangkok and Pattaya last month. During their stay in Pattaya, they were very impressed by the variety of tourism services on offer there.
Pattaya is blessed with beautiful beaches and stunning nature, and it is renowned for its wide range of beach services. However, some of the visitors expressed an opinion that Pattaya's beaches are not as beautiful as those in Da Nang. However, there are numerous beachfront eating and drinking areas, along with sunshades and deck chairs where people can sit and relax.
Most notably, interesting beach sports such as canoeing, water-skiing and paragliding have proved very popular with visitors. In particular, paragliding features strongly and there are a lot of providers offering it at cheap prices. From Pattaya, visitors also find it very easy to reach other tourist attractions in the locality. Thanks to these advantages, Pattaya has attracted a large number of tourists over recent years.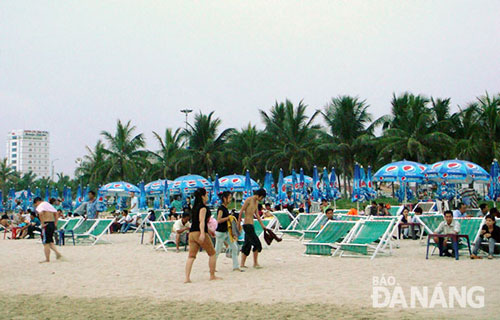 Some visitors on a local beach
By contrast, Da Nang's beaches are longer and cleaner than those in Pattaya, and they do not have wandering vendors on the beach to make beachgoers feel uncomfortable. However, Da Nang's existing beach services have yet to satisfy the varied demands of the visitors. In reality, many beachgoers are reluctant to stay for long on local beaches because of a severe shortage of eating and drinking services.
The Deputy Head of the Management Board of the Son Tra Peninsula and Da Nang Tourism Beaches, Mr Phan Minh Hai, affirmed that Da Nang and Pattaya share many similarities in beach tourism. He also remarked that the trip to Thailand gave the city's beach service providers the chance to gain valuable experience about increasing their tourism revenues. This would encourage them to make practical suggestions to the Management Board about promoting the development of the city's beach services in order to attract more visitors to the city.


.