PVN tops local enterprise revenue
Published: December 10, 2014
The National Oil and Gas Group (PVN) has been named as Viet Nam's largest company in terms of revenue, the VNR500 report announced on December 9.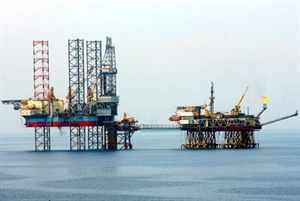 An oil-rig in the Bach Ho oilfield of Vietsovpetro, a joint venture between the PetroVietnam and Russia's JSC Zarubezhneft
The report, compiled by consultancy firm Viet Nam Report (VNR), lists the 500 largest companies in Viet Nam in terms of revenue in 2014.
This is the seventh consecutive year that PVN has taken the top position.
The runners-up are the Republic of Korea-invested firm Samsung Electronics Vietnam and Petrolimex, the main distributor of oil refinery products.
The total revenue of the top 10 businesses in the list was 110.33 billion USD.
Statistics from the report show that State-owned enterprises (SOEs) still hold a major position in the economy, as they account for 59 % of the top 500 firms in terms of the total revenue.
In addition, the report says that 15 % of the large businesses came from the minerals and petroleum sector, contributing 33% of the total revenue. It was followed by the power sector with 19 %, and the finance and banking sector with 10%.
Top 10 companies in terms of revenue
1. The National Oil and Gas Group (PVN)
2. Samsung Electronics Vietnam
3. Vietnam National Petroleum Group (Petrolimex)
4. The Electricity of Vietnam (EVN)
5. Military Telecom Group (Viettel)
6. Binh Son Refining and Petrochemical Company
7. Vietnam Posts and Telecommunications Group (VNPT)
8. PetroVietnam Oil Corporation (PV Oil)
9. The Vietnam National Coal, Mineral Industries Holding Corporation Limited (Vinacomin)
10. The Vietnam Bank for Agriculture and Rural Development (Agribank).

.