Viet Nam sees prospect for fruit, vegetable exports to UAE
Published: December 08, 2014
Viet Nam eyes prospects for its fruit and vegetable exports to the United Arab Emirates (UAE) as it earned 11 million USD from shipping these products to the country in the first 10 months of this year.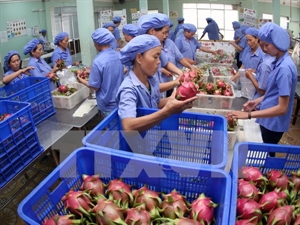 Dragon fruits are packaged for export
The Southeast Asian nation mainly exported dried coconut pulp and fresh fruit and vegetable to this market, according to the Ministry of Industry and Trade's Africa, West Asia and South Asia Market Department.
The launch of direct air routes between the two countries by Emirates and Etihad has offered a good chance for Viet Nam's fruit and vegetable exports to the UAE.
Viet Nam's fruit and vegetable export turnover is expected to hit a record of 1.4 billion USD in 2014, said the Ministry of Agriculture and Rural Development.
China now leads Viet Nam's 10 major importers of the products with 28.6 percent of market share, followed by Japan with 4.74 percent, the Republic of Korea with 3.76 percent and the US with 3.44 percent.
Last year, the country shipped abroad more than 1 billion USD worth of fruit and vegetables, compared to 827 million USD in 2012.


.