Viet Nam's trade surplus expected to hit 1.5 bln USD in 2014
Published: December 11, 2014
Viet Nam is forecast to enjoy a trade surplus of 1.5 billion USD this year, according to the Ministry of Industry and Trade (MoIT)'s Export and Import Department.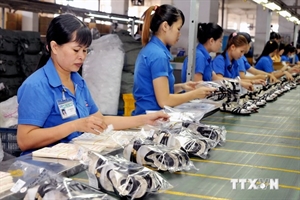 Illustrative image (Source: VNA)
Statistics from the department showed that the country's trade surplus in the first 11 months of 2014 reached about 2.1 billion USD.
The export turnover hit 137 billion USD during the period, up 13.7 % over the same period last year. The domestic economic sector contributed 48.8 billion USD to the total, up 13 %, while 92.2 billion USD or a 14.1 % rise came from the foreign investment sector (including crude oil).
The processing industry took the lead with a turnover of 100.14 billion USD, a 14.8% increase. It was followed by the agro-aquaculture sector with nearly 20.6 billion USD, a 14.5% increase.
However, the fuel and minerals witnessed a decline with its export turnover reaching only over 8.42 billion USD, down 4.2 % compared to the same period last year.
The United States remained the country's largest export market with 26.2 billion USD in export value or 21.3 % higher than that of the same period last year. The Viet Nam-US trade turnover is expected to gain a sudden growth in the time ahead when the Trans-Pacific Partnership (TPP) agreement is signed.
Other significant importers of the country included the European Union, with 24.8 billion USD in export value or an 11.4% rise, ASEAN and China with 17.3 billion USD and 13.5 billion USD, respectively.
The ministry has urged businesses to focus on seeking new and promising markets in Africa, the Middle East and Latin America for the country's traditional exports, especially agricultural products, seafood, textiles and footwear.

.