Real estate much in demand east of the Han River
Published: June 02, 2016
Da Nang is currently seeing a rapid growth of the real estate market on the eastern side of the city, especially in the districts of Son Tra and Ngu Hanh Son.
Since the start of this year, there has been a boom in the number of high-end hotel and luxury apartment projects along coastal Vo Nguyen Giap and Truong Sa.
The Muong Thanh Son Tra apartment-hotel complex on Vo Nguyen Giap is one example. The project's developers have launched sales programmes for their apartments and are attracting a large number of buyers from Ha Noi.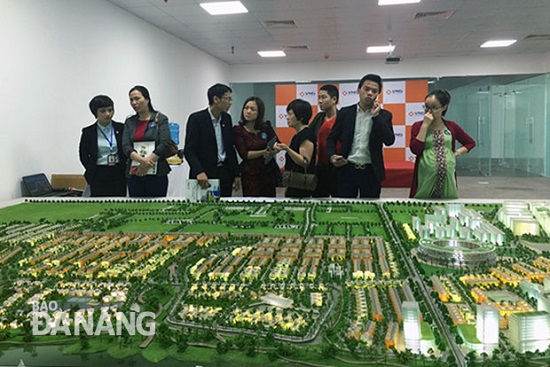 Interest in a model of the FPT Urban Area in Ngu Hanh Son District
The price of coastal land lots suitable for the construction of hotels in the Son Tra and Ngu Hanh Son districts is increasing. For example, 120 million VND/m2 is now being asked for land lots with 2 facades onto Vo Nguyen Giap and Ha Chuong, whilst others along Vo Nguyen Giap are priced at 100 million VND/m2.
The hike in the prices of such coastal residential land lots is mainly being attributed to the increasing demand of domestic and foreign investors for suitable sites to develop 2 and 3-star hotels to serve family groups visiting the city for their vacations. In addition, certain investors are focusing on constructing houses for lease by ex-pats living and working in the city.
According to local real estate experts, the rapid growth of the city's tourism sector has inspired the hike. The city has become an attractive destination for visitors from both home and abroad thanks to its favourable geographical position.
Currently, there is also an increasing number of eco-residential areas and smart homes, which are becoming a new trend in the city's real estate market.
Meanwhile, the prices of land lots in some newly-established residential areas in other parts of the city have remained stable.
Some urban residential area projects have just restarted after a long delay. Amongst them is a marina and urban complex in Son Tra District which is being developed by the Quoc Cuong Gia Lai Group.
In contrast to the property market boom on the eastern side of the city, the market on the northwest and northern sides of the city is sluggish. The main reasons are that the developers of delayed projects have faced some difficulties due to the impacts of the global economic downturn and the deadlock in managing their existing projects.
.