Viet Nam a potential attraction for Iranian tourists
Published: June 02, 2016
Viet Nam has the potential to attract large numbers of visitors from Iran to travel, shop, and indulge themselves in the culture of the Southeast Asian country, according to an Iranian tourism executive.
"Viet Nam suits our demands for tourism," Akbar Ghamkar, president of Rastin Tours Travel Agency in Tehran City, told representatives of Vietravel Tourism Company after concluding a familiarization trip with eight Iranian travel agencies across the country on Tuesday.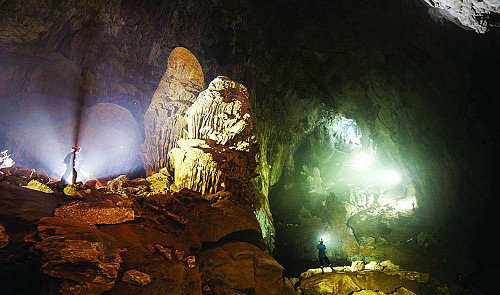 Son Doong Cave, the world's current largest cave in Viet Nam's Quang Binh Province Oxalis
The Southeast Asian country possesses magnificent scenery, savory cuisine, high-ranking hotels and halal eateries for Islamic followers, which piques Iranian people's interest, he added.
Ghamkar also said that Iranian tourists love shopping and tend to spend upwards of US$2,000 on shopping in a seven-day trip, as well as enjoying luxury services.
At least 750,000 tourists from Iran visit Thailand annually and are still seeking new tourism destinations, the Iranian travel agency president said, adding that Viet Nam tourism could be advertised more in Iran to attract more tourists from the Middle Eastern country.
(Source: Tuoi Tre News)
.