Viet Nam-Thailand trade fair and photo exhibition until 6 June
Published: June 02, 2016
The Viet Nam-Thailand Trade Fair and Photo Exhibition is taking place at Da Nang's Han Department Store on 23 Nguyen Thai Hoc until 6 June.
The event has been jointly organised by the municipal Union of Friendship Organisations, the city's Viet Nam-Thailand Friendship Association, and the department store. It is one of the city's trade promotion activities to mark the 40th anniversary of the start of diplomatic relations between Viet Nam and Thailand (1976 - 2016).
Addressing the opening ceremony, municipal People's Committee Vice Chairman Phung Tan Viet highlighted the significance of the event in fostering bilateral friendly and cooperative relationships, and enhancing mutual understanding between the people of Da Nang and Thai localities.
Vice Chairman Viet said, "This event creates an opportunity for Vietnamese and Thai businesses to boost their trading activities, which in turn will help customers in Da Nang, and in Viet Nam as a whole, to access high-quality products from Thailand".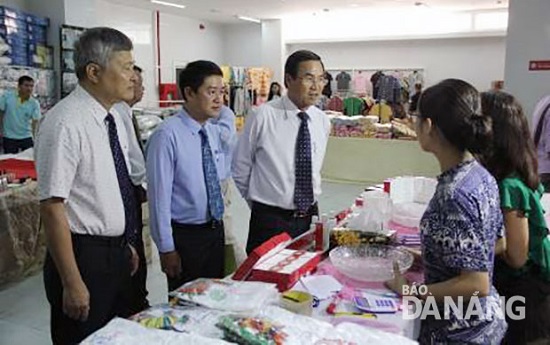 Invited guests visiting the fair
The 6-day event features 50 stalls showcasing a wide range of products, including food, cosmetics, and household appliances.
Numerous activities will be held during the event, including a photo exhibition to mark the 40th anniversary of Viet Nam-Thailand diplomatic relations, a fascinating musical exchange programme, and a Thai food festival introducing a wide range of delicious Thai specialities.
Also, a seminar entitled 'Business and Investment Opportunities in Da Nang' took place yesterday to introduce the city's investment environment to Thai businesspeople.
Representatives from 40 Thai businesses, which are involved in manufacturing household appliances, investment consultancy, commercial services, and logistics, attended the seminar.
Deputy Director of the municipal Investment Promotion Centre Huynh Lien Phuong briefed the Thai participants on the city's investment climate and its competitive advantages, including its position as the Pacific gateway for the East-West Economic Corridor, its great tourism potential, and modern transport infrastructure.
Chairman of the municipal Road Transport Association cum General Director of the Saigonship Da Nang company, Mr To Van Hiep, said that his association will create very favourable conditions for Thai businesses to transport their goods between Thailand and Da Nang.
Some of the Thai participants took the opportunity to ask the Da Nang authorities to open representative offices in Bangkok, Chiang Mai, and Phuket soon in order to further investment promotion activities and promote the development of logistics between these Thai localities and Da Nang.
As of May this year, around 20 of Da Nang's businesses are involved in trading with Thailand.


.