Attracting more Thai businesses to Da Nang
Published: March 24, 2017
On Thursday, as many as 40 representatives of businesses from Thailand, along with several from businesses in Da Nang, attended a talk in the city entitled 'Da Nang - Thai Lan Business and Investment Opportunities'.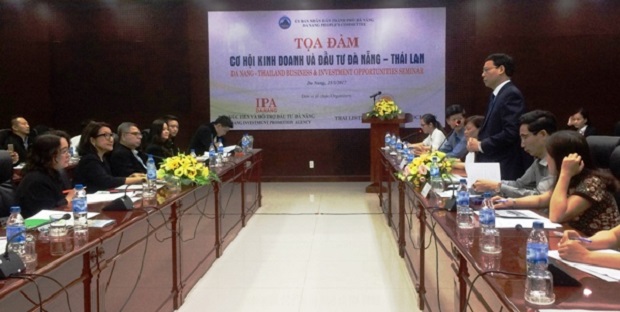 The seminar in progress (Photo: baotainguyenmoitruong.vn)
The event had been co-organised by the municipal Investment Promotion Centre and the Thai Listed Companies Association (TLCA).
The intention was to encourage more Thai investors to Da Nang, and to offer opportunities for the city's businesses to seek Thai partners.
Addressing the event, Da Nang People's Committee Vice Chairman Ho Ky Minh said, "Over the past 2 years, Thai businesses have shown a keen interest in investing into Da Nang, and into Viet Nam as a whole. However, the city has, to date, only attracted 5 projects from Thailand, worth around 19.1 million USD, out of the city's total of 465 FDI projects. This figure is therefore lower than expected".
The Deputy Director of the Investment Promotion Centre, Ms Huynh Lien Phuong, noted that Thai businesspeople were paying special attention to the online public services, export taxes, and tourism development orientations of Da Nang, as well as the preferential policies for foreign investors at the local Hi-tech Park. In addition, she affirmed that Da Nang always places environmental factors at the top of its priorities when attracting FDI inflows.
A representative from a Thai business said, "Da Nang boasts modern infrastructure and transport systems, plus it has numerous highly realistic policies, and all these things are very attractive to foreign investors".
TLCA President Pensri Suteerasarn pledged to appeal for more Thai businesses to invest in Da Nang. She added, "TLCA is willing to assist Da Nang businesses who want to learn more about the investment climate in Thailand in order to seek business opportunities there".

.