Da Nang tops PCI ranking for 4th consecutive year
Published: March 14, 2017
Da Nang has come out top of Viet Nam's Provincial Competitiveness Index (PCI) for 2016, the 4th consecutive year that the city has topped this ranking. In fact this is the 7th time that the city has topped the ranking since its inception in 2005.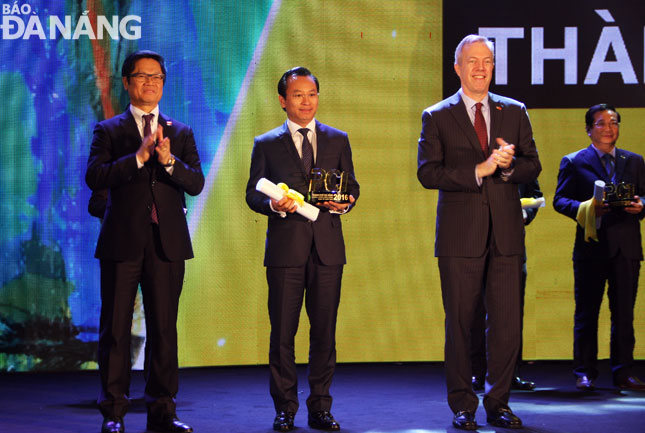 Secretary Anh (middle) receiving a cup in recognition of Da Nang's top position in the PCI 2016 on behalf of the local leaders and citizens
Da Nang scored 70 points on a 100-point scale, followed by the provinces of Quang Ninh with 65.60 points, Dong Thap 64.96, Binh Duong 63.57, Lao Cai 63.49 and Vinh Long 62.76.
The results were announced by the Viet Nam Chamber of Commerce and Industry (VCCI) and the US Agency for International Development (USAID) at a ceremony held in Ha Noi this morning (14 March).
Present at the event were VCCI President Vu Tien Loc, US Ambassador to Viet Nam Ted Osius, and USAID Viet Nam Mission Director Michael Greene. Da Nang was represented by Party Committee Secretary Nguyen Xuan Anh and People's Committee Vice Chairman Tran Van Mien.
Speaking at the ceremony, Secretary Anh expressed his delight at the city securing top position in the rankings for 2016. He said that this will be a source of great pride and encouragement for local residents and the authorities at all levels.
The city leader also highlighted the significance of the PCI rankings in enhancing the city's investment and business environment, and for providing the best support for local businesses. He remarked that the city's action motto is to guarantee full satisfaction for local residents and businesses, and the success of the city could not have been achieved without the success of the local business community. Therefore, top priority will be given to ensuring a more open, fair, and transparent investment environment for domestic and foreign businesses.
.