Difficulties facing investors in Hi-tech Park need resolving
Published: March 22, 2017
On Tuesday, representatives from the Da Nang Hi-tech Park Authority met with some of the investors operating there in order to hear about the issues of most concern to them.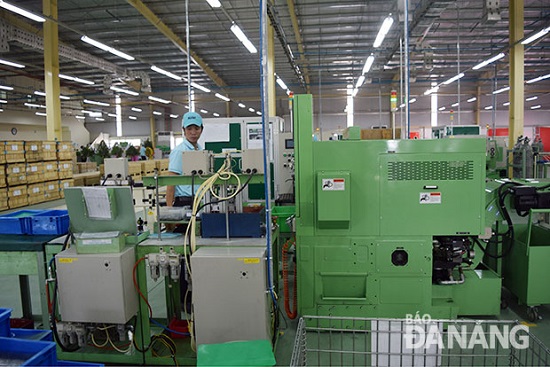 An electro-magnetic switch valve manufacturing plant in the Hi-tech Park
The Chairman of Japan's Tokyo Keiki Precision Technology Company, Mr Motoshi Mitobe, remarked that the park's water supply and wastewater treatment systems have been considerably improved. Currently, sufficient water supplies from storage tanks nearby are being ensured.
According to the Park Authority, a dedicated water supply plant with a capacity of 10,000m3 will be constructed in the park soon, and it is expected to be put into use by June 2018. Also, the park's dedicated wastewater treatment plant will be put into operation by late October 2017.
The Director of the Da Nang Power Company, Mr Ngo Tan Cu, said that the installation of automatic transfer switch systems at the Tokyo Keiki Precision Technology Company and the Niwa Foundry Viet Nam will be completed by the 3rd quarter of this year.
An 110kV transformer station with a maximum capacity of 80MW, exclusively supplying power to the park, is currently operating at only 9% of its total capacity because there are so few businesses currently operating in the park. In the years ahead, the remaining capacity will be utilised once the park attracts more projects.
With regard to the IT and telecommunications networks at the park, a representative from VNPT Da Nang remarked that his company is now implementing administrative procedures to install a base transceiver station (BTS) in the park in a bid to improve the quality of the 3G services. The installation work is expected to last about one month.
Mr Mitobe raised his concern over the current problem of littering in the park's surroundings by passengers on board coaches running through these places because a fence around the park has yet to be built. To deal with this issue, the Park Authority will ask the Hoa Lien Commune authorities to take stronger measures to stop littering. Work will start on the construction of a fence around the park next month, and the work is expected to be completed in July. The construction of an entrance gate to the park will be completed by November.
Mr Mitobe also asked the Park Authority to join efforts with relevant local agencies to promote more infrastructure development in the park for the benefit of the businesses operating there. Meanwhile, representatives from the Park Authority noted that constructive opinions from businesses are always welcome, and encouraged them to report their difficulties as early as possible to ensure the stability of their production and business activities.


.