Local students with potential start-up projects
Published: March 28, 2017
Students have many special and creative ideas which can turn into profitable start-up projects.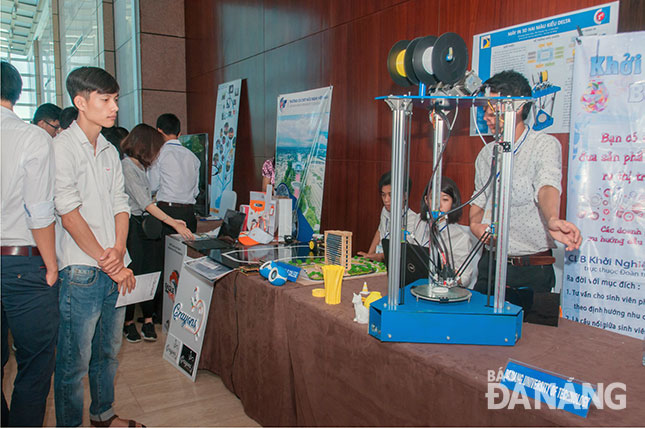 A 3D plastic printing machine at a scientific and technological fair
Many attendees at the 'Weekend Makes Changes' fair, which was organised by the Viet Nam-UK Institute for Research and Executive Education in January, could not, for example, hide their surprise at 'cookies made from crickets'. These cookies were made by the Demeater Food Company (DFC), a start-up project initiated by 5 graduates from the city's University of Economics.
Mr To Huu Chuong, a co-founder of DFC, said that ever since he was a student, he has realised that there are many products made from crickets in other countries. Weight for weight, crickets have three times more protein than pork, and twice that of beef. Meanwhile, raising this type of insect uses much less water and food than for example chickens, pigs and cows.
With the support of Dr Dang Duc Long from the University of Science and Technology and Dr Nguyen Thi My Huong from the University of Economics, Chuong created cookies and snacks from crickets during his final year as a student.
Currently, DFC is under the management and support of the Da Nang Entrepreneurship Support Company (DNES). DFC has already developed new products such as fresh-frozen crickets, marinated dried crickets, and cricket snacks. In order to ensure sufficient supplies of crickets, the company has cooperated with a cricket farm in the city.
Presently, the company's products are available for sale at the city's Evergreen Farmer's Market Fair, via social networks, and at some local retail outlets. The company will expand its markets into other localities nationwide, and into European and American countries in the years ahead.
Another typical example of a start-up business is the Bee Tech Company, with its BeeGlasses product - smart glasses for the blind.
BeeGlasses have been created by Le Nhat Hung, Nguyen Tran Viet Chuong and Nguyen Manh Tuan, all graduates of Duy Tan University. Their intention is to allow the blind to move around easily and carry out their normal daily routines.
The first version of the smart glasses was created when they were at the university. At that point, their product was installed with a camera to help the blind avoid walking into obstacles, and a voice recording microphone.
Hung said that the smart glasses can help the blind to read books without learning Braille, move around more easily, identify objects used in daily activities, and use their voice to perform some commands.
Mr Vu Xuan Truong, Head of the Research and Development Office of DNES, said that one of DNES's priorities is start-up projects by local students. He, therefore, stressed the need to boost start-up activities at local universities in order to promote the sustainable development of the city's start-up ecosystem.
Recently, DNES has entered into memoranda of understanding with the Viet Nam-UK Institute for Research and Executive Education, the College of Food Industries, and the universities of Duy Tan, Economics and Architecture, to together discover groups of students with potential start-up ideas to give them financial support and turn them into start-up projects.
.