More solutions needed to solve problems faced by IT businesses
Published: March 30, 2017
On Wednesday, a seminar took place in Da Nang about developing the city's information and communications technology (ICT) sector. It aimed to discuss ways to deal with the issues of most concern to IT businesses, and thereby bolster the development of the sector.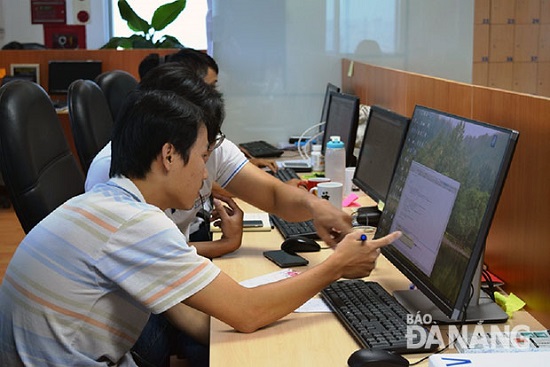 Employees at a local IT company
The event was jointly chaired by municipal People's Committee Vice Chairman cum Head of the city's Department of Publicity and Training, Mr Dang Viet Dung, and the Director of the city's Department of Information and Communications, Mr Nguyen Quang Thanh.
Currently, the city is home to about 700 IT businesses specialising on, amongst other things, supplying hardware and digital content services. The local IT sector's annual revenue growth rate is between 25% and 30%. Last year, it generated revenue of over 13,000 billion VND in total, and contributed a total of 114.8 billion VND to the city budget.
According to a recent survey of over 170 local IT businesses, the biggest obstacles facing them are a severe shortage of qualified IT employees and business premises for their production and trading activities, and difficulties in seeking consumer markets.
Currently, there are a total of about 20,000 people working in the city's IT sector. However, at the same time, many new IT graduates from local universities and colleges are not fully meeting the requirements of their potential employers because they lack background knowledge, foreign language proficiency, and other soft skills.
As for the business premises-related issues, 2 dedicated IT parks are now fully occupied and other parks exclusively for IT businesses are still under construction. Hence, the IT businesses suggest that the city authorities should issue even more preferential policies to allow them to access suitable business premises.
Last, but not least, due to their small-scale of operation, many local IT businesses find it very hard to compete with large IT groups and corporations nationwide in participating in the implementation of State-funded projects in the city. Furthermore, some IT businesses often face challenges when trying to expand into overseas markets because their investment promotion capacity remains low.


.