Real estate market thriving in the city
Published: March 13, 2017
According to a recent survey by Savills Viet Nam, one of the leading real estate service providers in the country, Da Nang now has 10 condotel projects offering a combined total of 3,901 rooms. Included are around 1,950 units in Son Tra District and 1716 in Ngu Hanh Son District.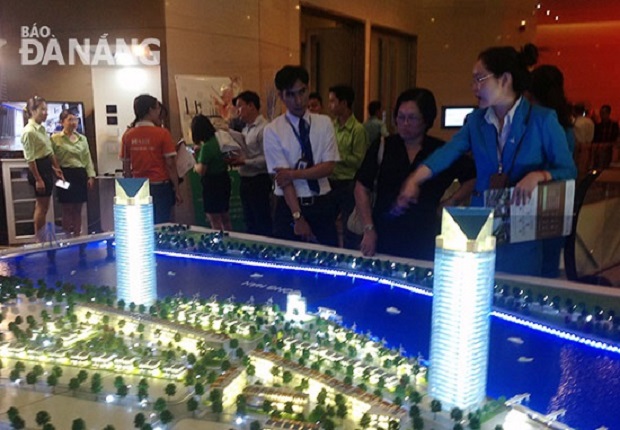 Visitors view a model of a real estate development
In addition, a total of 3,495 apartments from 15 other projects are currently available for sale, of which 1,048 are in Ngu Hanh Son District.
Regarding holiday villas, there are now a total of 774 holiday villas in the city, and Ngu Hanh Son District also takes the lead in this segment with 728 units.
According to Savills, the city's real estate market is thriving. One reason is thought to be that the APEC Economic Leaders' Week, to be held in the city in November, is stimulating sales and investments in this field. In particular, the number of 3 and 4 star hotel rooms has increased by 9,000 against late 2016. In addition, their room rates have climbed by 18% whilst their occupation rates are up 4%.
However, the office space for lease market has seen a downward trend in the first quarter of this year. The city has a total of 85,000 m2 of office space for lease, and this figure is likely to fall by 1,000 m2 as many developers have withdrawn from the local market. Currently, the lease prices of office space have dropped by between 9% and 30% against late last year.


.