Viet Nam doubles presence on Forbes Billionaires List
Published: March 22, 2017
Viet Nam has had 2 representatives on the Forbes 2017 Billionaires List for the first time, with the female CEO of a budget airline joining a realty mogul who has been amongst the world's richest for the past five years.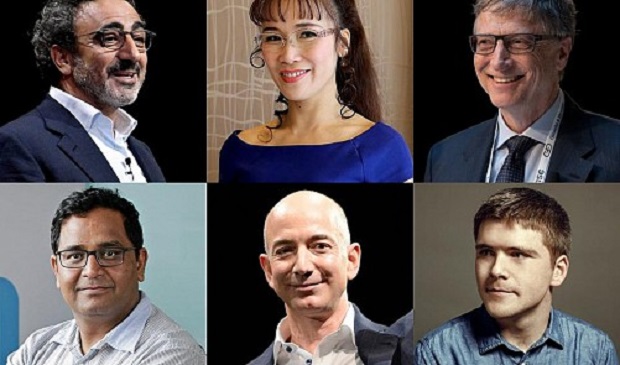 VietJet founder Nguyen Thi Phuong Thao (2nd, top left) is seen among members of the 2017 Forbes list of billionaires in this photo provided by Forbes.
Pham Nhat Vuong, Chairman of Realty Conglomerate Vingroup, enjoyed his 5th straight appearance, while Vietjet CEO and President Pham Thi Phuong Thao made her debut on the latest list released on Monday.
Vuong has a net worth of 2.4 billion USD, and Thao, 1.2 billion USD, ranking them at 867th and 1,678th place respectively on this year's list, according to Forbes.
Vuong is the founder and chairman of Vingroup, one of Viet Nam's largest conglomerates. The company, which derives most of its revenue from selling houses and apartments, is expanding rapidly into retail, logistics, agriculture, education and healthcare.
Vingroup's biggest project, the 1.5 billion USD Vinhomes Central Park that features an 81-story skyscraper, apartment buildings and a park resembling New York City's Central Park, is on track to be completed in Ho Chi Minh City in 2018.
Vuong studied in Moscow, then moved to Ukraine, where he started Technocom, a maker of instant noodles. He moved back to Viet Nam in 2001 and got into real estate, eventually selling his food company in 2009 to Nestlé.
He remains the richest man in Viet Nam, with a recent report revealing that he owns nearly 65% of the company, directly and indirectly through a holding company, Viet Nam Investment Group, according to Forbes.
Vuong debuted on Forbes' billionaires list in 2013 with a net worth of 1.5 billion USD, ranking him the 974th richest person in the world.
Thao launched low-cost airline Vietjet in 2011 and made a big splash early on with ads featuring bikini-clad flight attendants. The airline, which offers 300 flights a day, operates more than 40% of Viet Nam's flights.
In February 2017, Viet Nam's first self-made female billionaire started listing her airline on the Ho Chi Minh City Stock Exchange.
Thao also has investments in HDBank and real estate including three beach resorts, according to Forbes. She is one of 15 new self-made women to make their way onto the Forbes 2017 Billionaires List.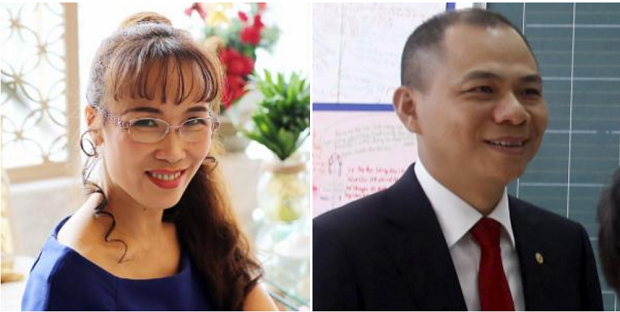 Nguyen Thi Phuong Thao (L) and Pham Nhat Vuong
Forbes' latest rich list shows that Bill Gates remains in the number one spot for the 4th year in a row, meaning he has been the richest person in the world for 18 out of the past 23 years. He has a fortune of 86 billion USD, up from 75 billion USD last year.
Amazon's Jeff Bezos, Warren Buffett, Amancio Ortega, founder of Spanish clothing chain Zara and Facebook founder Mark Zuckerberg complete the top-five.
U.S. President Donald Trump's net worth plunged to 3.5 billion USD, or roughly a third of what he claimed during his successful presidential campaign, Reuters reported.
In a press release, Forbes commented that it was a record year for the richest people on earth, as the number of billionaires jumped 13% to 2,043 from 1,810 last year.
This edition also marks the 1st time ever that Forbes has listed more than 2,000 ten-figure-fortunes. The group's total net worth rose by 18% to 7.67 trillion USD, which is also a record.
The change in the number of billionaires – up by 233 since the 2016 list – was the biggest in the 31 years that Forbes has been tracking billionaires globally.
(Source: Tuoitrenews)
.