Young woman shows keen interest in business start-up activities
Published: March 10, 2017
26-year-old Ly Thi Phuong Dung, who works at the Da Nang Department of Industry and Trade, is a team member of a start-up project entitled 'Minh Hong' which specialises in producing cleaning fluid from biological products.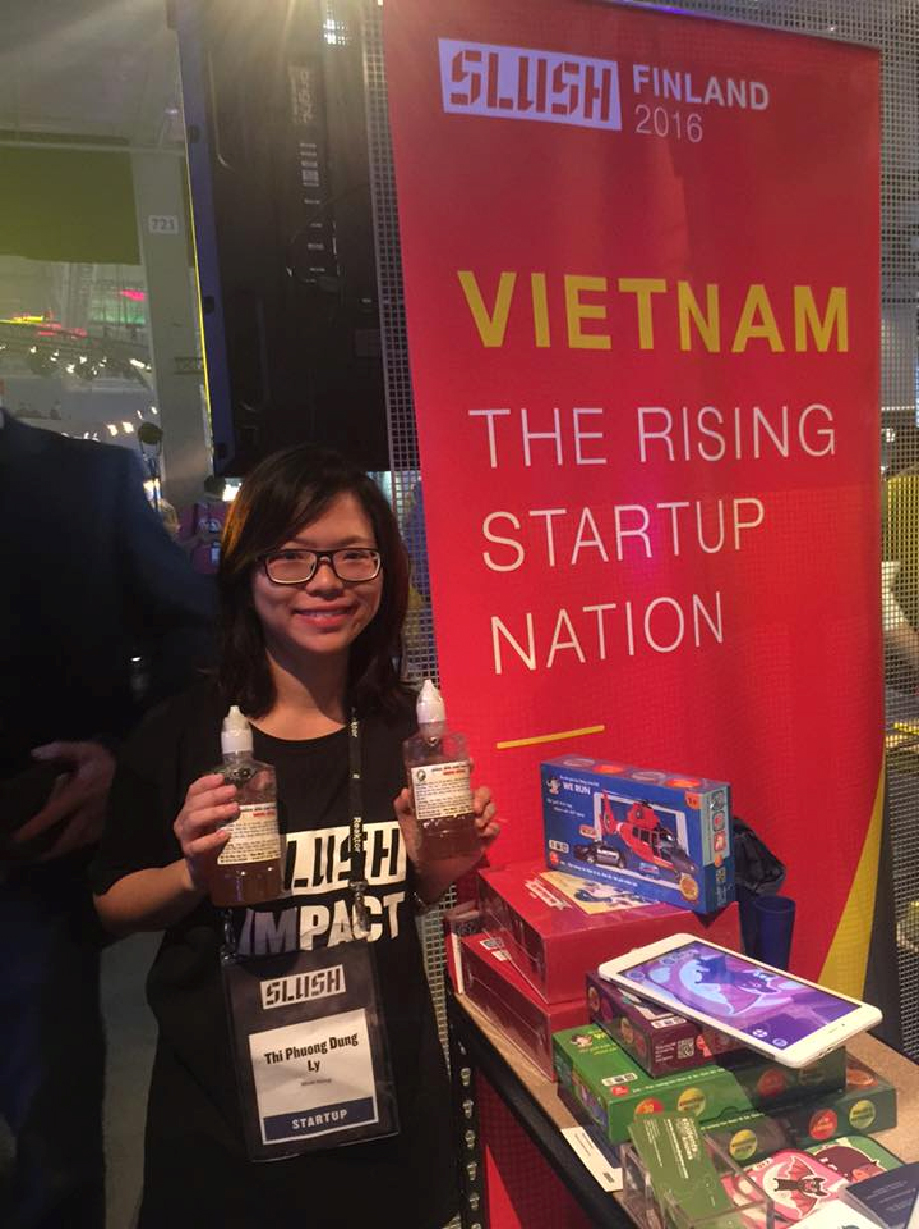 Ms Dung introducing her project's products at the Slush event
The project was initially developed by Ms Trinh Thi Hong from Lien Chieu District's Hoa Minh Ward who had the idea of producing dishwashing liquid from raw vegetables and withered flowers. Ms Dung is now in charge of developing new business models for the project, and making representations for its products at business start-up contests. This project won the first prize at the Social Innovation Camp within the framework of the Hatch! Fair 2016 - Viet Nam's largest start-up event which took place in Ho Chi Minh City.
Ms Dung has represented the project's management staff and introduced its products at several prestigious contests both at home and abroad, including the Start-up Fair 2016 in Da Nang, the Hatch! Fair 2016, and the Slush 2016 event in Helsinki, Finland. Slush is Europe's leading start-up event where founders and tech talent meet with top-tier international investors, executives and the media. Over 2,300 startups, 1,100 venture capitalists, and 600 journalists from over 120 countries worldwide attended Slush to drive business and experience the phenomenal atmosphere.
Ms Dung happily reported that she had unforgettable memories from her 2-week stay in Helsinki attending the Slush Global Impact Accelerator 2016. This annual programme is a collaboration between Finland's Ministry for Foreign Affairs and multiple partners globally. The aim is to create a leading global accelerator to support start-ups which are seeking to solve some of the most pressing global challenges and contribute to the discussion on impact investing.
The talented young woman remarked that she was very deeply impressed with the effective operation of a co-working space in Helsinki established by Microsoft, especially the advanced equipment supporting start-up activities and thereby offering a creative and dynamic working environment for start-up businesspeople. In particular, 'smart bathroom mirrors' featuring the world's latest technologies have been placed in the toilet areas.
Ms Dung highly appreciated the guidance and useful advice from Mr Peter Vesterbacka, the co-founder of Slush and MobileMonday. He is also the former brand ambassador and 'Mighty Eagle' of 'Angry Birds' which is a puzzle video game developed by Rovio Entertainment. Mr Vesterbacka highlighted the significance of ensuring a closer link between start-up lovers in the community, and especially the spirit of effective coordination within a start-up business.
The Da Nang visitor also expressed her strong admiration for the high-quality projects introduced at the Slush event. Included were a project for creating an unmanned aircraft for delivering blood for emergency transfusions, and another for setting up skill-sharing websites in which developers share their personal skills in a particular aspect with other participants at the event.
Ms Dung said that she was very interested in Start-up Sauna, which is a business incubation programme developed by Finnish students in 2010. During its 6 years of operation, Startup Sauna has helped to develop 194 business start-up projects, and has raised a total investment capital of about 100 million USD.
.