Attracting more visitors during summer tourism season
Published: April 11, 2017
Da Nang's summer tourism season begins in April and continues through to August, and local travel agencies and tourist attractions are now offering a wide range of new tourism products and services to attract more visitors from both home and abroad.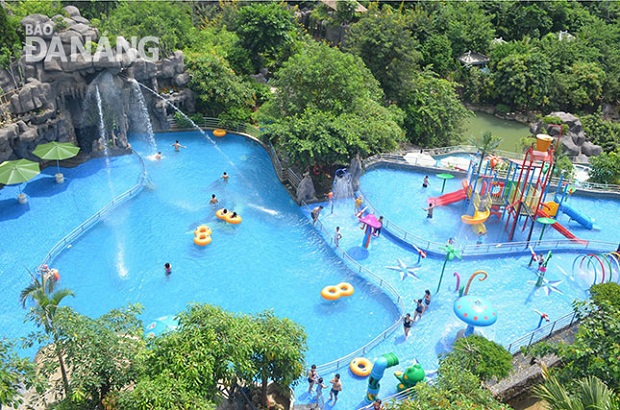 Exciting water games at the Nui Than Tai Hot Springs Park
Some representatives from local travel agencies are predicting that the city is likely to welcome a larger number of visitors during this year's summer tourism season against last year. The main reason is that the Da Nang International Fireworks Festival (DIFF) will take place in the city between 30 April and 24 June, and there are numerous fascinating cultural activities being held on the sidelines to encourage visitors to extend their stay in the city.
Over the 4-month summer tourism season, a large volume of tourists is expected to visit local beaches for swimming and to take part in numerous exciting sporting activities here.
Mr Nguyen Duc Vu, Deputy Head of the Management Board of the Son Tra Peninsula and Da Nang Tourism Beaches, said that various fascinating cultural and sporting activities will be organised during the upcoming local Beach Tourism Season and the 'Summer Destination' programme.
In particular, there will be a photo exhibition about the marine environment and the ecosystem on Son Tra Peninsula, and a drawing contest for local school pupils. In addition, a presentation contest for local residents, including university students and school pupils, will be held in the city to help them gain an insight into the Peninsula.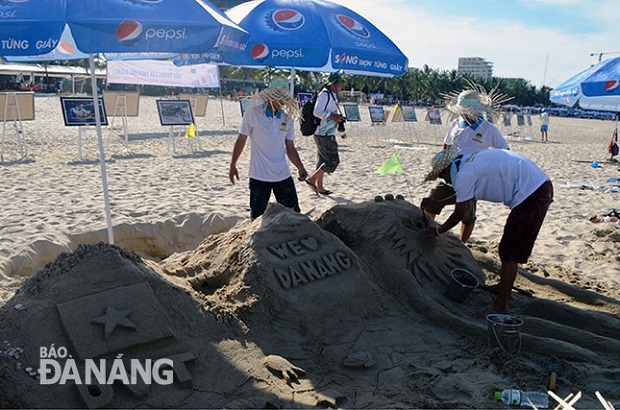 An activity during the 2016 'Summer Destination' programme
Local attractions including the Ba Na Hills Resort, Asia Park, Marble Mountain Tourist Area, Nui Than Tai Hot Springs Park, Ngam Doi eco-tourism site and Hoa Phu Thanh entertainment area are ready to serve the increasing number of visitors during the summer tourism season.
Next month, the Nui Than Tai Hot Springs Park will offer various new exciting water games and services for its guests, including black hole water slides, adventure slides, and swimming pools for children.
The Park's CEO Tran Trung Quang, said that a large number of safety and service staff have been employed at the site to ensure the best services for visitors.
The local tourism sector is making every effort to further enhance the quality of services for visitors to the city. The focus is on ensuring the effective implementation of the city's code of conduct for tourism activities, and guaranteeing a safe and friendly tourism environment for visitors.
Importance is also being attached to raising awareness amongst local tourism service providers about various aspects, including how to enhance their business activities, protect the environment, and ensure food safety and hygiene for customers.




.