Shandong and Da Nang to seek investment in agriculture
Published: April 03, 2017
Businesses from the China's Shandong Province have been seeking more investment and co-operation opportunities with local partners in agriculture, trade, agricultural machinery production, farm produce export, bio industry, hi-tech farm and food safety in Da Nang.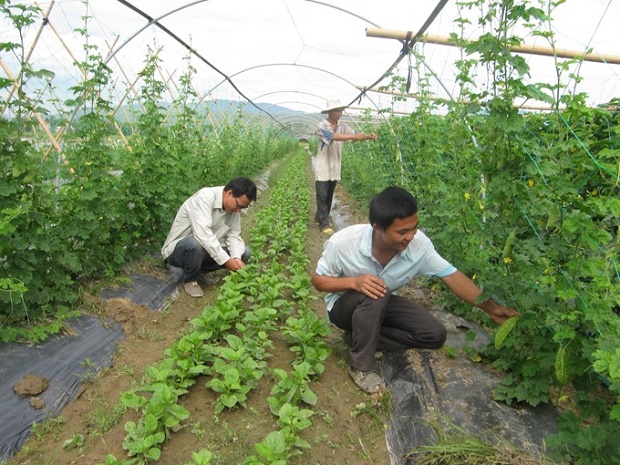 Farmers at a safe farm in Da Nang's Hòa Vang District. VNS Photo Cong Thanh
Head of Shandong's working delegation, Wang Junmin spoke at a seminar on agriculture and business co-operation in the city on 30 March.
Mr Wang said Vietnamese fresh fruits are a popular farm produce in Shandong as well as rubber, while garlic, ginger and agricultural machinery have been made available for the Vietnamese market.
He said 102 investment projects with total registered investment capital of 1.22 billion USD from Shandong have been approved by the municipal People's Committee.
Mr Wang said businesses from his province have to date poured 4.1 billion USD in Viet Nam.
"We have appealed for a co-operative mechanism in boosting investment, tourism, cultural exchange and connections amongst travel and enterprise associations and universities between Da Nang and Shandong Province," Mr Wang said.
He also invited Da Nang to join the Ocean Forum to be held in Shandong this September, strengthening the relationship of the two locations.
Vice Chairman of Da Nang People's Committee Ho Ky Minh pledged that his city's authorities would offer favourable conditions for Chinese investors with long-term projects in hi-tech farming, 'green' technology and food processing.
Vice Chairman Minh also said his city has offered preferential policies for businesses from Shandong Province who invest in the city's Hi-tech Park and Information Technology park as well as available Industrial Zones.
The two cities set up a relationship in 1994, but trade and investment progress has failed to reach its full potential.
In 2012, the two sides agreed a Memorandum of Understanding (MoU) on tourism cooperation and the investment environment.
According to a report from the Da Nang Department of Industry and Trade, the city consumes 145,000 tonnes of seafood and 140,000 tonnes of vegetables per year. However, the city's 80ha of farms only provide 10% of daily vegetable demand.
In terms of tourism, Da Nang welcomed 443,000 Chinese tourists, representing 27% of total foreign visitors in 2016.
(Source: VNS/ DA NANG Today)
.