Vietjet records high profit growth in 2016
Published: April 04, 2017
The low-cost carrier Vietjet recorded revenue of more than 27.49 trillion VND (1.21 billion USD) in 2016, up 39% year-on-year, according to its audited financial results released on Monday.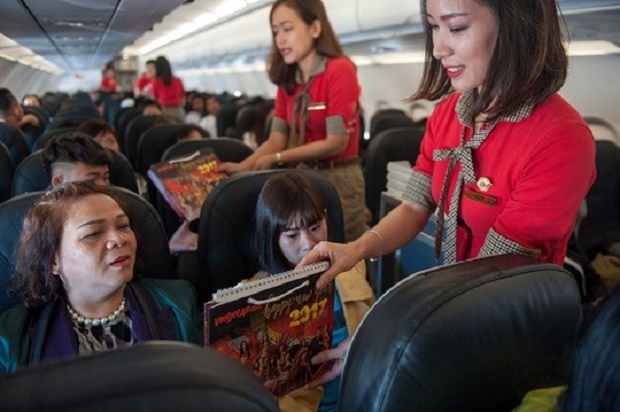 (Photo nld.com.vn)
Last year, Vietjet's pre-tax profit also experienced a significant yearly rise of 113% to approximately 2.5 trillion VND.
The airline's total assets reached more than 20 trillion VND, surging 67% from the same period last year while its equity capital rose 120% year-on-year to 4.73 trillion VND.
Vietjet attributed the encouraging performance to its efforts in launching new domestic and international routes, exploiting existing ones and technical innovation to cut operating costs.
According to the data, the airline made up 41% of the market share.
This year, the airline plans to launch an additional 26 new routes including four domestic ones, bringing its number of routes to 86.
In a separate report, published earlier in February, Vietjet said it transported more than 14 million passengers in 2016, effectively contributing to the development of Viet Nam's aviation industry.
The airline's operations also registered strong performance in safety and reliability compared to other airlines in Asia-Pacific. It operated a total of 84,535 flights, accounting for 121,213 flight hours last year.
"All of this guarantees Vietjet's development under international standards and its professional human resources who will oversee the airline's steady and sustainable growth," the airline said.
In a move to welcome the start of the summer, Vietjet has announced the start of 3 golden days, in which one million promotional tickets will be on sale, priced from as low as zero dollars, at http://www.vietjetair.com.
The promotion, available on all domestic routes, continues Monday through Wednesday from noon to 2.00pm. Tickets may be used from 1 May to 20 December.
(Source: VNS)
.