Boosting tourism cooperation with other central localities
Published: May 06, 2017
After many years of cooperation on tourism, Da Nang, Thua Thien-Hue Province and Quang Nam Province have together developed numerous attractive tourism products. Most notably, the joint tourism branding of the 3 localities, using 'The Essence of Vietnam', was introduced in a bid to further advertise their local tourism.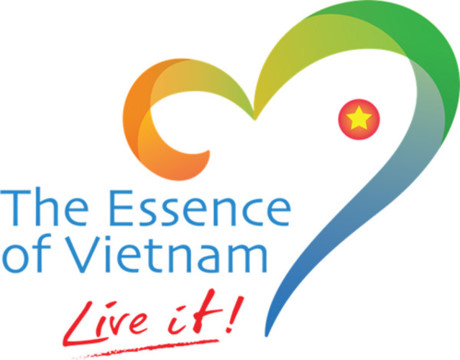 The shared brand
The shared brand was jointly established by the EU-funded Environmentally and Socially Responsible Tourism Capacity Development Programme (EU-ESRT) and the tourism departments of the 3 localities.
The brand features the image of an 'open heart' which demonstrates the friendliness of the people in the 3 localities. The heart is in 3 colours, namely orange, blue, and green, to respectively represents 3 key regional tourism products: culture, sea and islands, and nature. This design is also in keeping with the national tourism brand name 'Vietnam - Timeless Charm'.
Useful tourism information about the 3 localities is now available on their joint website at http://www.theessenceofvietnam.com/#/home. It provides visitors with databases about attractive tours and popular attractions in the 3 localities, and offers detailed travel plans for their trips.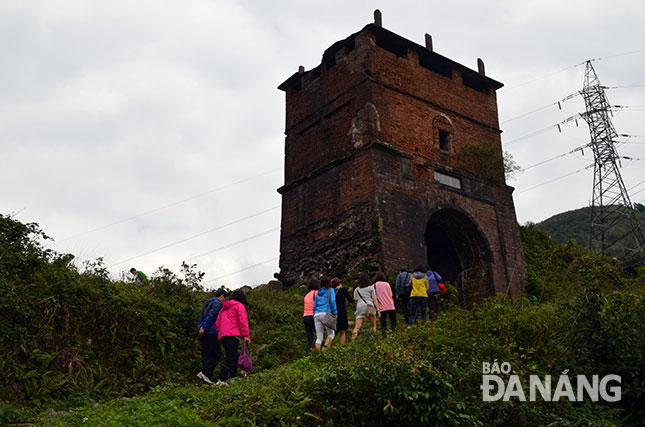 Visitors at the Hai Van Gate
Amongst the popular tourism products, the most highly recommended are the tours namely 'Con Duong Di San' (Heritage Road) and 'Con Duong Thien Nhien' (Nature Trail).
The 'Heritage Road' features trips to the UNESCO-recognised world heritage sites of Hue Citadel in Thua Thien Hue Province, and Hoi An and My Son Sanctuary in Quang Nam Province.
The 'Nature Trail' takes visitors to popular sites which boast a rich biodiversity and important ecological processes. Included are Thua Thien Hue Province's Bach Ma National Park, Da Nang's Ba Na Mountain and Son Tra Peninsula, and Quang Nam Province's Cu Lao Cham (Cham Islands) Biosphere Reserve. In particular, visitors have an opportunity to discover thermal springs, beautiful caves, the varied species of flora and fauna in the 3 localities, and to participate in numerous entertainment activities.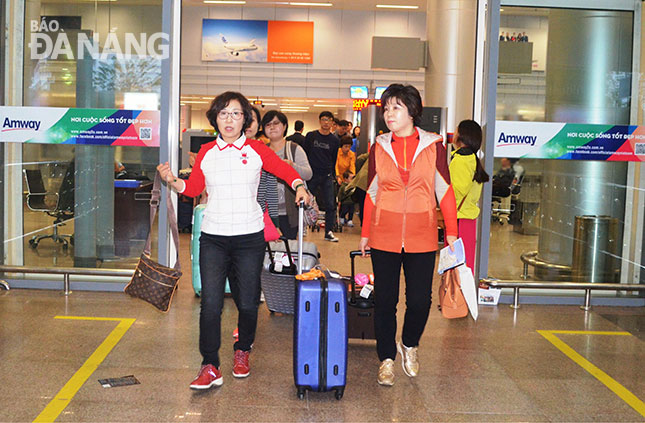 International tourists arriving at Da Nang International Airport
Ms Huynh Thi Huong Lan, the Deputy Director of the Da Nang Tourism Promotion Centre, highlighted the importance of bolstering the trilateral tourism cooperation, with a focus on developing eco-tourism, and heritage, festival and marine tourism in a sustainable and environmentally friendly manner. This will help to advertise the image of the 3 localities to both domestic and international visitors, and foster the development of their tourism activities.
Ms Lan also suggested that the 3 localities should expand their tourism cooperation with other Vietnamese localities such as Ha Noi, Can Tho, Quang Binh and Lam Dong.
She said proudly that tourism in the 3 localities has been considerably promoted thanks to the successful organisation of fairs and roadshows at home and abroad.
.