AELW 2017's International Media Center ready for operation
Published: July 27, 2017
The Da Nang International Exhibition Fair Centre in Cam Le District's Khue Trung Ward has already been temporarily converted into the International Media Center (IMC) of the APEC Economic Leaders' Week 2017 (AELW) in November.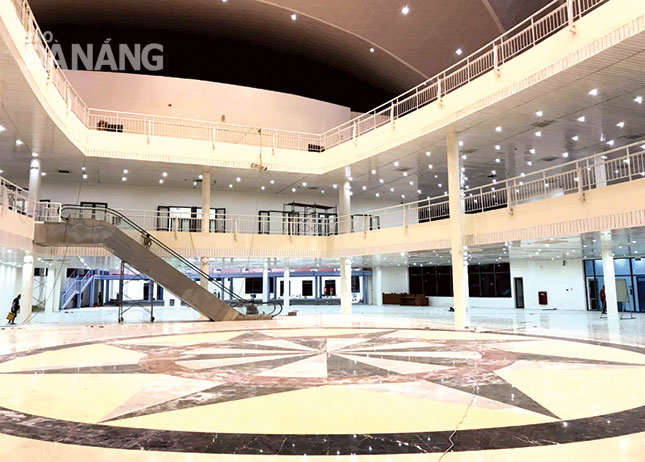 Inside the IMC
About 4000 correspondents from both home and abroad are expected to cover this large-scale international event. The 131,009m2 centre specialises in monitoring AELW-related press activities, providing necessary information about the event and professional services for domestic and foreign reporters, and handling related tasks. Currently, media representatives are kindly advised of the following initial information in regard to the IMC as well as some other available arrangements, especially for media timely booking requirements.
The IMC features the Reception Area/the Main Hall which feature an information/booking desk, a press kiosk and a media waiting room. The centre's International Broadcasting Center (IBC) offers host broadcasters/photographers and satellite transmission services.
The centre's Main Press Briefing Room cum as the Press Common Working Area, equipped with common work desks, convenient AC outlets audio feeds, computers with network printers; wifi & LAN internet connection with 5 Mbs speed, wide-screen LCD for live feed monitoring, photocopiers, and stand-up positions. This area is able to accommodate between 700 and 1,000 reporters.
There are also medium and small press briefing rooms which can accommodate about 200 and 100 people respectively. Reservation to use these rooms must be made on the 'first come, first served' basis.
Other facilities are also available including a medical room, a prayer room exclusively for foreign religious believers to practise their faiths, post and telecommunication service areas, money exchange counters.
Also, a dining area provides complimentary food services for accredited media during AELW, whilst media booths are used as individual working space for media agencies as well as member economies.
In particular, there are also dedicated functional areas for such national media agencies as Viet Nam Television, Viet Nam News Agency and Voice of Viet Nam, and international broadcasting services.
The Ha Noi-based Huy Hoang International Trading and Investment Joint Stock Company had won bids to deploy the upgrade of the Da Nang International Exhibition Fair Centre into the IMC.
According to engineer Tran Anh Tuan, the Head of the project's construction unit, advanced robotic equipment was used in the replacement of the fair centre's old plastic roofs with specialised roofing panels.



.