Boosting bilateral cooperation with other localities for sourcing organic food
Published: July 19, 2017
The annual demand for agricultural products in Da Nang is about 140,000 tons of fruit and vegetables, and 45,000 tons of meat products. However, the city's own agricultural produce suppliers can only provide 9,000 tons of fruit and vegetables and 2,000 tons of meat, meaning that the remainder has to be sourced from other localities across the country and elsewhere.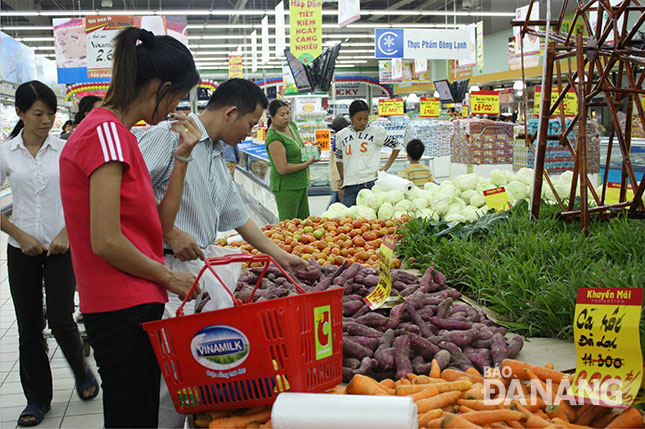 Shoppers at a local supermarket
Recently, the city has seen an increasing consumer demand for organic agricultural produce. Therefore, the local authorities are seeking prestigious, safe, agricultural produce suppliers to establish long-term cooperation relationships.
In an effort to promote the development of an organic vegetable and safe meat supply chain in the city, the Da Nang authorities have already inked cooperative agreements with Lam Dong, Quang Nam and Tien Giang provinces. In the near future, the local authorities will enter into cooperative agreements with Binh Dinh Province for the supply of organic pork meat, and with Gia Lai for organic vegetables.
Ms Phan Nhu Yen, Director of the Da Nang Intimex Supermarket, said that her supermarket is willing to join in this supply chain in the role of a consumption agent. Top priority will be given to introducing local residents to organic agricultural produce sourced from Da Lat and Quang Nam Province.
In the near future, the municipal Department of Industry and Trade and the Department of Natural Resources and the Environment will be responsible for connecting with safe agricultural produce suppliers in the city and other domestic localities.
Approved by the Da Nang authorities, an organic agricultural product fair is scheduled to take place at the city's International Exhibition Fair Centre on 9 Cach Mang Thang Tam from 14 - 19 December. Local relevant agencies will take responsibility for inviting safe agricultural produce suppliers from the provinces of Quang Nam, Lam Dong and Tien Giang, plus other localities nationwide, to participate in this fair.
.