City sees growing number of South Korean visitors
Published: July 12, 2017
Over recent years, Da Nang has emerged as a favourable destination for international holidaymakers, especially those from South Korea.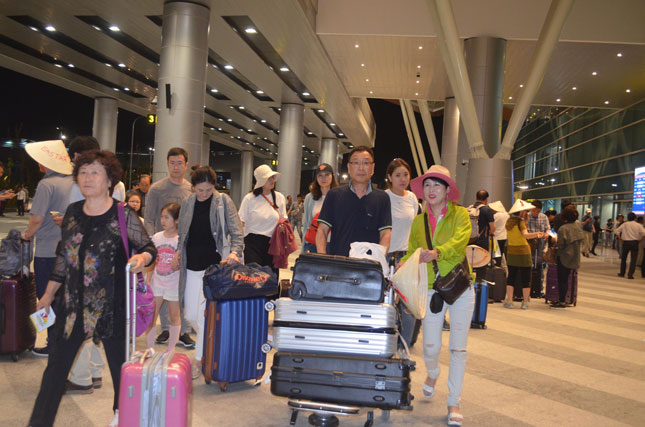 South Korean visitors at Da Nang International Airport
During the 1st quarter of this year, the total number of international visitors to this beautiful seaside city reached 595,864, up 58.4% against the same period last year. In particular, the number of South Korean visitors to the city was higher than from any other country at 191,483, up 90% against the same quarter last year, followed in second place by visitors from China.
Currently, there are a total of around 84 flights per week between Da Nang and South Korean localities, including Busan, Daegu and Muan as well as Incheon. The average occupancy rates on these flights are between 70% and 80%.
Most notably, the municipal Travel Association recently opened 'welcome clubs' for South Korean and Chinese visitors in a bid to better deal with the influx of visitors from these countries. Gathering together local travel agencies who mainly serve such tourists, these clubs focus on closely coordinating with the State management agencies to ensure the quality of tourism services. The establishment of such a club helps to ensure a healthy competitive environment between local travel agencies, increases business efficiency and stability, and prevents price hikes being levied on the foreign tourists.
Mr Tran Chi Cuong, the Deputy Director of the municipal Tourism Department, remarked that the local authorities have introduced many effective measures to resolve issues that have arisen from the increasing numbers of South Koreans arriving in the city.
In particular, importance has been attached to increasing the monitoring of restaurants and stores exclusively serving South Korean visitors, especially to avoid tax collection losses from these trading establishments.
In attempting to ensure a healthy tourism environment, the Department will continue increasing its checks and monitoring of foreign individuals and travel agencies suspected of conducting illegal tourism activities in the city.
.