Da Nang striving to become even more attractive to tourists
Published: July 09, 2017
Over recent years, tourism has become one of Da Nang's spearhead economic sectors. It has helped the city to promote its social-economic development, attract more domestic and foreign investment inflows, create more job opportunities for locals, enhance the living conditions of local residents, and further the promotion of its beauty to international friends.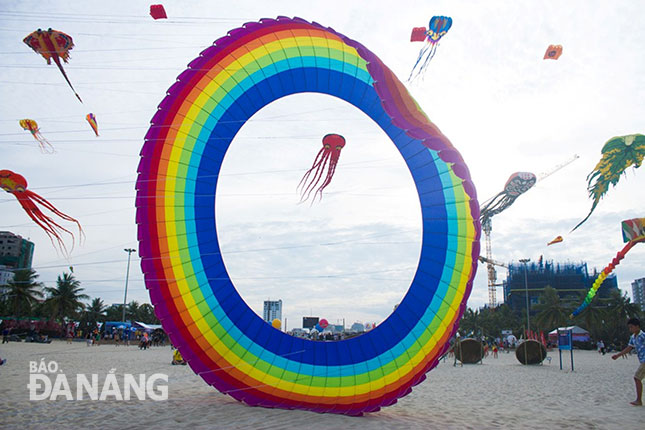 The Da Nang Kite Festival 2016
Mr Ngo Quang Vinh, Director of the municipal Department of Tourism, remarked that Da Nang has emerged as an attractive destination for visitors from both home and abroad thanks to its rapid development of infrastructure.
In particular, in 2008 the city authorities approved plans to improve the infrastructure on the Son Tra Peninsula, and to build model public bathing areas at My Khe and T19 beaches. The city has also seen a boom in the number of 5-star seaside hotels and resorts.
In addition, many tourist attractions have been created or upgraded such as Ba Na Hills Resort's French Village, the Asia Park, the Nui Than Tai Hot Springs Park, and the Helio Centre entertainment complex. Numerous beach sports services have been launched to attract more visitors to the city. These include speedboats, jet-skiing, parasailing, kayaking and diving.
In attempting to attract more foreign visitors, a wide range of international-scale events have also been organised in the city. These have included the Da Nang International Fireworks Competitions/Festival, the 2015 - 2016 Clipper Round the World Race, the Da Nang International Marathon, the 2016 Asian Beach Games, the 2016 Beach-Leisure & MICE Travel Mart, the Da Nang Kite Festival 2016, and the 2017 Asia Golf Tourism Convention. Most notably, the APEC Economic Leaders' Week (AELW) will be held in the city in November. The AELW is expected to attract 2,000 official delegates, 3,000 foreign reporters, 5,000 businesspeople and many more.
By 2020, Da Nang targets to welcome a total of 8.5 million visitors, including 2.5 million foreigners. As a result, the city's tourism sector is expected to be earning 27,400 billion VND in revenue by then, and 35,289 jobs are forecast to be created for locals by 2020.
In a bid to reach the above targets, greater efforts will be made to make Da Nang an international cruise ship and yacht receiving centre as an increasing number of cruise ship passengers have been arriving in the city over recent years. Special attention will be paid to developing a chain of high-quality and special tourism products in the city.
Chairman of the municipal Travel Association Cao Tri Dung highlighted the importance of training high-quality human resources for the hospitality sector, improving the quality of tourism services, and increasing the competitiveness of local tourism businesses. More direct flights between Da Nang and such countries as Japan, South Korea, China, Thailand, Singapore, Australia, and the USA, plus places in Europe, should be opened in the near future.
Director Vinh noted that the forthcoming AELW will be a golden opportunity for Da Nang to advertise its image to more international friends. He, therefore, stressed the need for local relevant agencies to enhance tourism infrastructure, and develop plans to advertise the beauty of the local landscape and people to the 21 APEC member countries. Importance will be attached to raising public awareness about tourism environmental protection to ensure a rapid and sustainable tourism development.
.