Efforts to welcome more Western European visitors
Published: July 31, 2017
In addition to Northeast Asian countries, those in Western Europe are considered potential markets for promoting the tourism development of Da Nang, and of Viet Nam as a whole.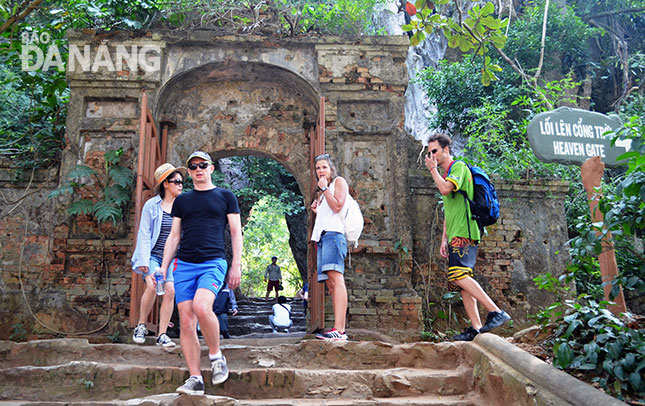 Foreign visitors at the Marble Mountains
Therefore, since 2015, the Vietnamese government has been offering visa-free entry for visitors from 5 Western European countries, namely the UK, France, Germany, Italy and Spain.
As a result, in the first quarter of this year, the total number of visitors arriving in Viet Nam from those 5 countries hit over 240,000, an increase of 12% compared with the same period last year.
Over recent years, Da Nang has seen some increase in visitors from these 5 countries, but the figure has remained relatively modest. In 2016, Da Nang welcomed 21,900 English visitors, a rise of 16% against 2015, and 13,628 French tourists, up by 10%.
Chairman of the municipal Travel Association Cao Tri Dung highlighted the significance of the visa exemption for the 5 Western European countries in attracting more foreign visitors to Da Nang, and to Viet Nam as a whole. He stressed, however, the need for local relevant agencies to develop new tours related to natural resources and traditional culture, and further advertise beautiful images of the city's tourism to international friends through many media channels.
Ms Nguyen Thi Hoai An, Deputy Director of the municipal Tourism Promotion Centre, suggested that local relevant agencies should carefully study the tastes of visitors from Western European countries to make detailed and effective plans in order to fully tap the potential of these travellers.
She added that the focus should be on improving the quality of adventure tours in the city, including kayaking on the Han River, diving to explore the coral reefs, cycling tours to discover the beauty of the Son Tra Peninsula, rock climbing at the Marble Mountains, and camping in the forests or on local beaches. In addition, special attention should be paid to training tourism employees, especially tour guides, in German, French, Spanish and Italian languages.
.