Re-checking master plan for Son Tra Peninsula
Published: July 17, 2017
Last Saturday, a seminar on the conservation and sustainable development of the ecological systems on the Son Tra Peninsula took place in Da Nang. The event was co-organised by the Southern Institute of Ecology, the Viet Nam Academy of Science and Technology, and the Da Nang Tourism Association.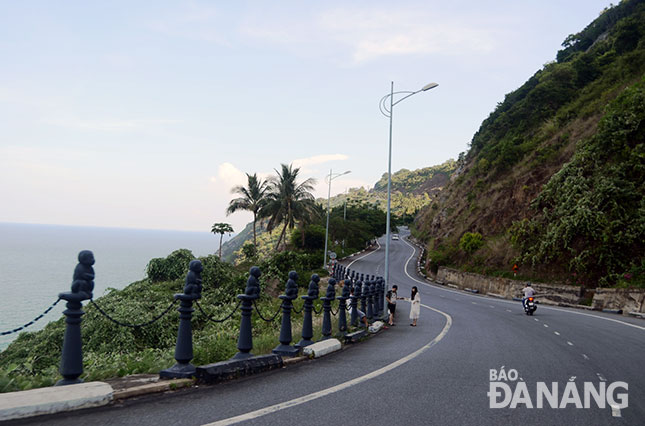 A road to the Son Tra Peninsula
Addressing the event, municipal People's Committee Vice Chairman Ho Ky Minh highlighted the important role of the Son Tra Peninsula in ensuring the city's socio-economic development, security and defence. He remarked that the peninsula is also an endpoint for the East-West Economic Corridor. Most notably, it boasts a very diversified ecosystem with many rare animal and plant species, especially the red-shanked douc langurs.
Vice Chairman Minh said that the Da Nang authorities are currently carefully re-checking all the projects planned for the Son Tra Peninsula in order to complete the city's master, tourism and special-use forest conservation plans.
He added, "Top priority will be given to effectively exploiting the natural resources of the peninsula, with the focus on promoting the development of sport and eco, spiritual and high-end holiday tourism but still ensuring the city's security, defence, environmental protection, and biodiversity conservation. Ensuring the sustainable development of the peninsula will help the city to promote the effective shifting of its economic structure and the growth of tourism services, enhance the material and spiritual lives of locals, and connect with the Non Nuoc-Ngu Hanh Son-Hai Van-Ba Na-Nui Chua tourism areas".
Dr Nguyen Xuan Hoa from the Nha Trang Institute of Oceanography said that the peninsula boasts a diversified aquatic ecosystem with coral reefs and sea grasses. However, the area of coral reefs under the seas off the peninsula decreased from 80.9ha in 2006 to 46.9ha in 2016 due to construction projects, pollution and over-fishing.
Director of the Southern Institute of Ecology Luu Hong Truong said there are over 1,000 species of vascular plants and vertebrate animals in the peninsula. Included are 43 species listed in Viet Nam's Red Book and 21 others in the World Red Book.
Mr Huynh Tan Vinh, Chairman of the Da Nang Tourism Association, stressed the need for the Da Nang authorities to develop the peninsula into a sustainable ecotourism area. Special attention should be paid to minimising the negative impacts on the environment in order to facilitate visitors to enjoy the natural beauty of the peninsula, as well as raising their awareness about environmental protection.
Dr Nguyen Viet Dung from the PanNature organisation suggested that a Management Board of the Son Tra Peninsula Conservation Area should be established in the near future. The Board will be responsible for ensuring the harmony of biodiversity conservation and eco-tourism development.
.