Road tunnel completion date pushed back to late October
Published: July 28, 2017
On Thursday, Da Nang Party Committee Secretary Nguyen Xuan Anh paid an inspection visit to the construction site of the new road tunnel at the intersection of Dien Bien Phu and Nguyen Tri Phuong streets. He was accompanied by representatives from the city authorities.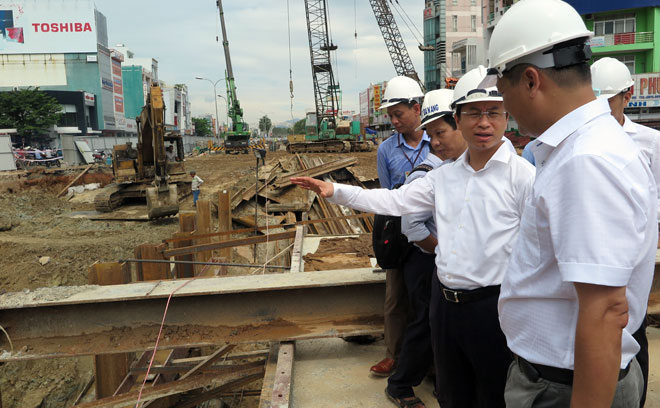 Secretary Anh at the tunnel construction site
Work officially started on the 118 billion VND project late last year. The project's contractors are a joint venture between Thuan An JSC and Thang Long Corporation.
The project features an 80m-long reinforced concrete tunnel with new approach roads and cuttings. Through the tunnel there will be 2 lanes for the Bus Rapid Transit system and another 2 lanes for other vehicles. In addition, the installation of drainage, lighting, traffic lights and surveillance camera systems are underway.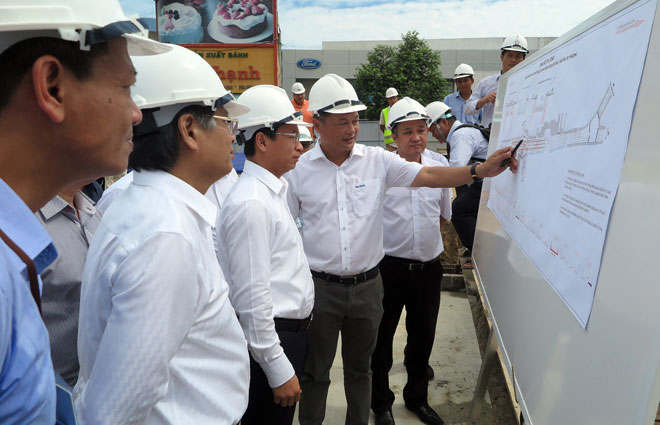 A representative from the Management Board briefing the city leader on construction progress
According to the municipal Management Board of Priority Infrastructure Projects, only 35% of the construction work has been completed to date. This means that the project is unlikely to be put into use before 2 September, to mark National Day, as was scheduled. Therefore, the Management Board and the construction units proposed that the city authorities should approve a new completion deadline of 15 October. According to the Management Board, the main work of the project has already been completed and, therefore, the remaining work is expected to be finished ahead of schedule.
Secretary Anh urged the Management Board and construction units to accelerate the progress of this important project and guarantee its quality. He underscored that the project must be completed by the end of October in order for it to be fully in use during the APEC Economic Leaders' Week 2017 (AELW) in November.
He also asked relevant local agencies to deal promptly with unexpected issues arising during the construction.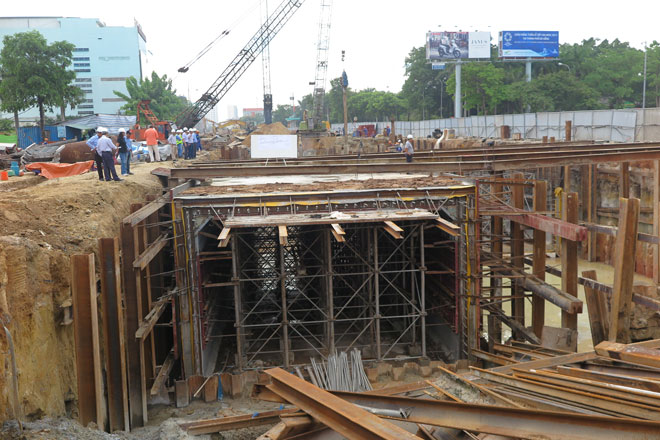 A view of the construction work
According to municipal People's Committee (PC) Vice Chairman Nguyen Ngoc Tuan, the project's construction units were recently required to make commitments in writing to ensure construction is completed according to the new schedule. Over recent months, the leaders of the municipal government have met with the Management Board and the construction units once every two weeks to accelerate the construction progress and handle any problems arising during the construction work.





.