Seminar to promote tourism to Japan
Published: July 28, 2017
On Thursday, a seminar to promote tourism cooperation between tourism businesses in Japan and central Viet Nam took place in Da Nang.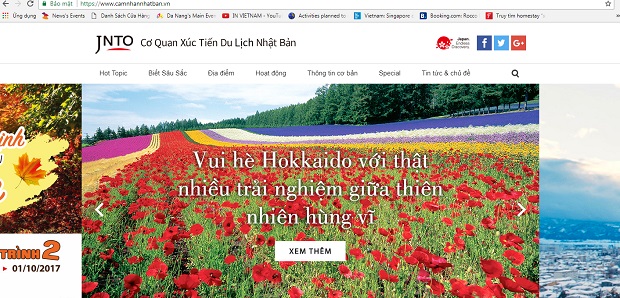 JNTO's website
At the event, representatives from the Japan National Tourism Organisation (JNTO), the Osaka Tourism Department, Narita Airport, and the Japan Association of Travel Agents introduced participating Vietnamese travel agents to their latest tourism cooperation opportunities and some preferential policies.
Representatives from travel agencies in central Viet Nam asked relevant Japanese agents to introduce them to accommodation, popular tourist attractions and the current traffic situation in Japan, as well as to help them train their local skilled tour guides.
In reply, a JNTO representative vowed to make every effort to reduce the language barriers and travel costs, and simplify the immigration procedures.
Also at the seminar, JNTO debuted its website www.camnhannhatban.vn and its Facebook page https://www.facebook.com/camnhannhatban/, both in the Vietnamese language. These pages will provide Vietnamese tourism businesses with the latest information about Japanese tourism.
.