Shortcomings in software outsourcing services
Published: July 22, 2017
According to the latest report released by the Da Nang Department of Information and Communications, with an annual average growth rate of between 25% and 30%, the city's software industries have significantly contributed to the local budget through exports over recent years. In particular, the city's information technology (IT) sector earned over 13,000 billion VND in revenue last year, around 3,000 of which came from the export of software and digital content.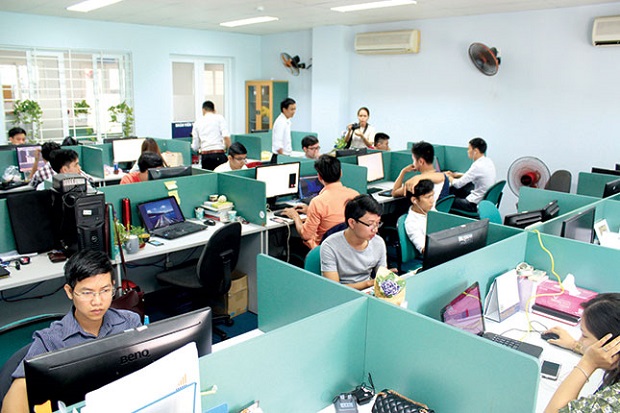 Employees at a local IT company
Around 301 out of 700 IT businesses in the city specialise in software manufacturing and outsourcing. Many large domestic and foreign software businesses have expanded their offices in the city, including FPT Software, Axon Active, Gameloft, LogiGear, MagRabbit, Global Cybersoft, Enclave and Asnet. These companies have provided software outsourcing services for the Japanese, North American and European markets.
Despite the dramatic increase in the export revenues of local software producers, local IT businesses have been mainly involved in low-level software outsourcing services. This has helped foreign IT companies save on the cost of employing human resources. It is true, however, that most of these businesses have yet to participate in the global software supply chain.
Mr Le Tri Hai, CEO of the Toan Cau Xanh Communications and Technique Company, remarked "One of the main reasons for the above-mentioned problem is that the city's software businesses are now facing a severe shortage of high-quality IT employees, especially those who have foreign language proficiency and the other essential soft skills."
Director of the Department Nguyen Quang Thanh noted that local IT businesses could take advantage of the upcoming APEC Economic Leaders' Week (AELW) in November to gradually upgrade to higher levels in the software sector. It means that AELW will offer a good opportunity to find foreign IT partners, promote IT transfer activities, and enhance their integration into the global supply chain.
In addition, the municipal Department of Information and Communications is planning to train high-quality IT human resources during the 2017 - 2025 period, and promote the development of the local IT and Communication Industry with a vision toward 2025. An IT investment promotion seminar will be held in September on the sidelines of the AELW. The intention is to help participants learn about the latest global IT trends, as well as to appeal for more foreign IT businesses to invest in the local IT sector.
.