Tourist arrivals surge over first half of this year
Published: July 24, 2017
According to the Da Nang Department of Tourism, between January and June the number of tourist arrivals jumped by 33.2% against the same period last year to hit over 3.2 million.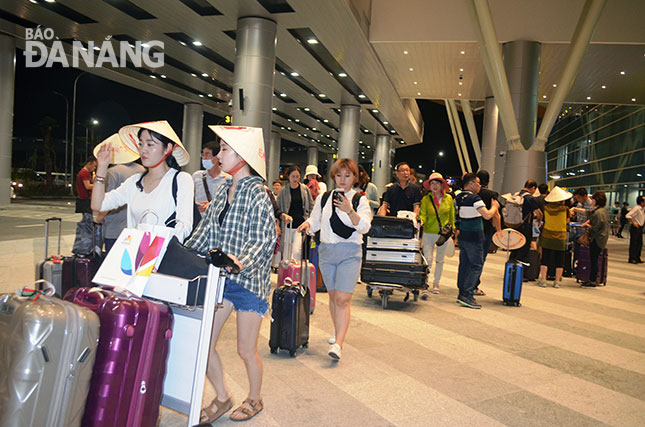 Visitors arriving at Da Nang International Airport
Of this figure, the number of foreigners climbed by 72.2% to hit over 1.2 million, whilst domestic visitors increased by 17.1% to 2 million.
The city's tourism sector earned over 9,400 billion VND in revenue, up 35.1% against the same period last year.
It was recorded that popular local attractions such as the Marble Mountain Tourist Area, the Ba Na Hills Resort, Nui Than Tai Hot Springs Park, and My Khe Beach all saw many visitors. Also encouragingly, there was a sharp increase in the number of visitors staying overnight in local accommodation establishments.
The Deputy General Director of the city-based Viet Nam Tourism Joint Stock Co (Vitours), Mr Le Tan Thanh Tung, explained that Da Nang has emerged as an attractive destination for visitors from both home and abroad. It is clear to see that, aside from its improved infrastructure and the hosting of many large-scale events and festivals, many local travel agencies have focused on developing teambuilding tourism through the launching of various programmes for visitor groups, each consisting of dozens of people.
Also, more direct flights between Da Nang and such countries as Japan, South Korea and China have been opened, thereby helping to attract more visitors from these foreign tourism markets.
The increase in visitor numbers was partly attributed to the successful organisation of various exciting cultural and sporting activities during this year's Beach Tourism Season in May, and the Da Nang - Summer Rendezvous programme 2017 last month, as well as other interesting events.
During the review period, 81 new accommodation establishments were put into use in the city, adding a combined total of 3,994 rooms. Of these, 29 are 3-5 star hotels. Newly-opened ones, such as Grandvrio, Seven Sea, Adamo, Luxtery and Paracel, enjoyed high room occupancy rates. Most notably, a rate of around 93% was recorded at the Seven Sea Hotel on Vo Nguyen Giap, with the majority of its guests being domestic visitors or from South Korea and Japan.
The upcoming APEC Economic Leaders' Week (AELW) in November is expected to give Da Nang a golden opportunity to further develop its tourism. Taking advantage of this large-scale international event, many accommodation providers are busy making preparations for welcoming and serving APEC guests.
Besides upgrading their accommodation facilities, many of the resorts and 4 and 5-star hotels are paying special attention to training their staff members.
According to Mr Nguyen Minh, General Secretary of the city's Hotels Association, many local hotels are cooperating with local universities and junior colleges to provide their staff members with the necessary skills training courses, with the intention of serving visitors from Europe, North American, and especially Muslim or Hindu guests. Notably, the Seven Sea Hotel has already prepared 2 prayer rooms exclusively for foreign religious believers to practise their faiths, with each accommodating 150 persons.
Mr Pham Viet Cuong, the Director of the Sea Phoenix Hotel, proposed that accommodation establishments should offer more short-term training courses on reception and serving skills for their employees in a bid to give the best service to their clients, especially any APEC guests.

.