Accelerating construction progress of new tunnel
Published: August 31, 2017
According to the Da Nang Management Board of Priority Infrastructure Projects, only 50 % of the construction work of the road tunnel at the intersection of Dien Bien Phu and Nguyen Tri Phuong streets has been completed to date.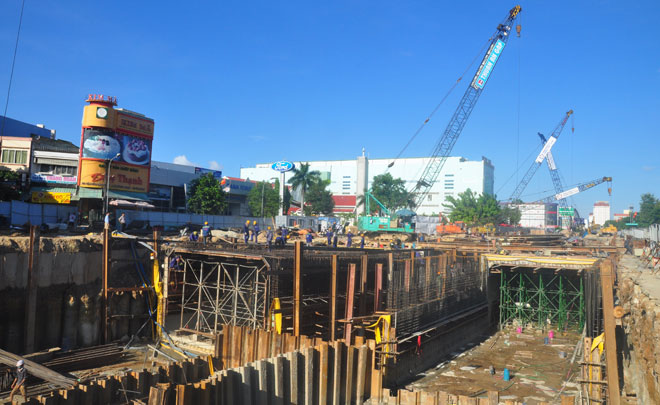 A view of the construction work
Work officially started on the 118 billion VND project late last year. The construction unit is a joint venture between Thuan An JSC and Thang Long Corporation.
The project features an 80m-long reinforced concrete tunnel with new approach roads and cuttings. Through the tunnel there will be 2 lanes for the Bus Rapid Transit system and another 2 lanes for other vehicles. In addition, the installation of drainage, lighting, traffic lights and surveillance camera systems are underway.
According to the municipal Management Board of Priority Infrastructure Projects, the main reason for the work being behind schedule is that the construction company has faced some difficulties due to the narrow construction site and unexpected complex geological conditions at the site, especially high groundwater levels and flowing sand. To make the problem worse, the burgeoning traffic flow near the construction site has also adversely affected the construction work.
During his inspection visit on Wednesday to the construction site of the tunnel, municipal People's Committee Vice Chairman Nguyen Ngoc Tuan urged the construction units to make even greater efforts to accelerate the progress of this important project and ensure its quality.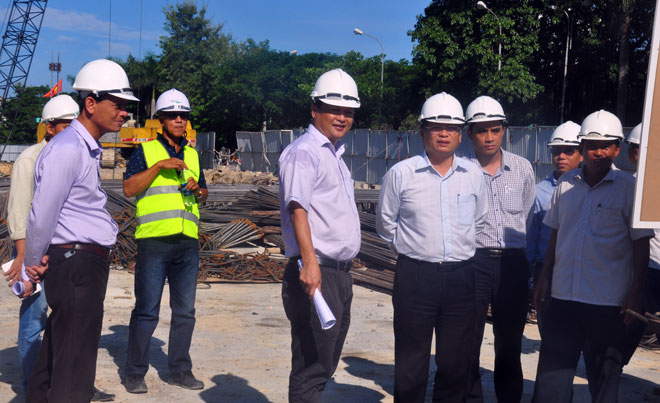 Vice Chairman Tuan (4th right) and other representatives from the city authorities at the construction site
Vice Chairman Tuan also underscored the need for representatives from the city authorities to conduct an inspection of the construction progress every 15 days until the whole project is completed.
Previously, the municipal government had underscored that the project must be completed by the end of October in order for it to be fully in use during the APEC Economic Leaders' Week 2017 (AELW) from 6-11 November.
With just over 2 months to go to AELW 2017 in the city, hundreds of construction workers are rushing to work around the clock to complete the remaining items.




.