Creating more green spaces for AELW
Published: August 16, 2017
Over recent months, the Da Nang Department of Construction has been busy upgrading local main routes and creating more green spaces across the city in preparation for the upcoming APEC Economic Leaders' Week (AELW) 2017 which will take place in the city in November.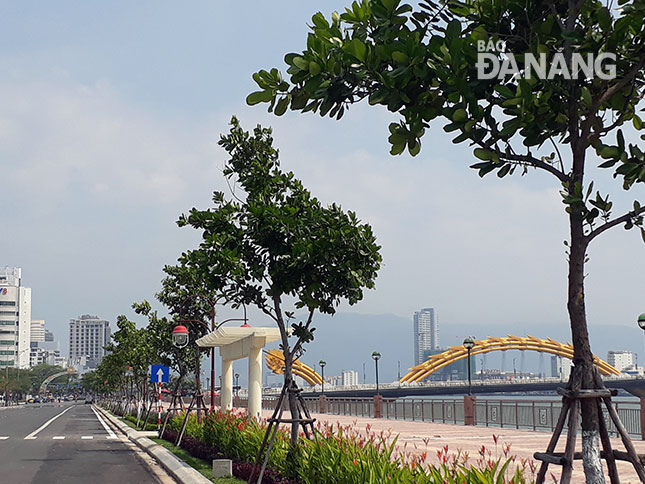 Green trees planted along Bach Dang
These main routes include Nguyen Van Linh-Rong (Dragon) Bridge-Vo Van Kiet, Hoang Sa-Vo Nguyen Giap-Truong Sa, Ngo Quyen-Le Van Hien, Cach Mang Thang Tam-2 September-Bach Dang-Tran Phu-3 February, Nguyen Tri Phuong-Nguyen Huu Tho, Duy Tan-Nguyen Van Thoai, Tien Son-Ho Xuan Huong, and Truong Chinh-Ton Duc Thang-Nguyen Luong Bang.
In addition, 'Cay Bang Lang' (Lagerstroemia), 'Cay Muong Hoang Yen' (Cassia Fistula) and 'Cay Muong Hoa Dao' (Cassia Javanica) trees have been planted along the lane dividers of these routes.
Many existing infested, rotted or stunted trees in the city have been replaced with new ones, and more trees have been planted in areas lacking greenery. Each of the newly-planted or replaced trees is around 4m in height with a diameter of around 10cm. The city's communications and power cables, plus lighting systems, have been replaced with new ones.
The city branch of the Ha Noi-based 319 Corporation has been responsible for building the 3,047m2 APEC Park in Hai Chau District's Binh Hien Ward.
The new park will be built on a triangular-shaped vacant land lot at the intersection area of 2 September street and Bach Dang extended street, near the Rong (Dragon) Bridge.
It will feature tiled pathways and pedestrian areas within a total area of 752m2. The remainder of the site will be designated for planting trees and grasses, as well as for placing the symbols of APEC's 21 member countries.
.