Organic vegetable and fruit grown in Hoa Ninh Commune
Published: August 24, 2017
Since early July, a 9,000m2 organic vegetable and fruit growing area has been developed in Trung Nghia Village, Hoa Ninh Commune, Hoa Vang District, Da Nang, by the families of Mr Nguyen Thang and Mr Le Manh Dan.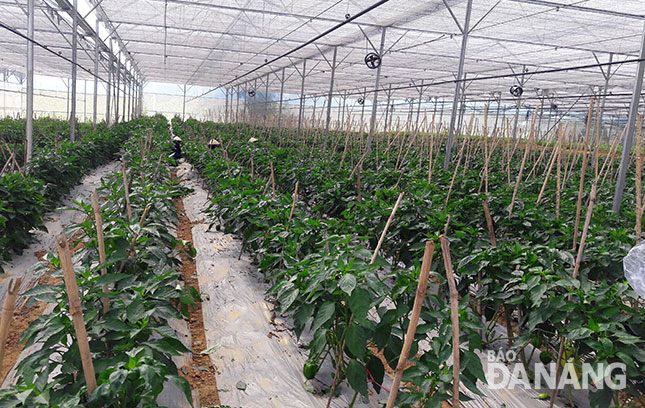 The organic vegetable and fruit growing area in Trung Nghia Village
Mr Thang said that he and his wife both have over 20 years of experience in growing vegetables and fruit in Da Lat City. After coming back to his hometown in 2016, Mr Thang cooperated with Mr Dan to develop an organic vegetable and fruit growing area in their village.
Thanks to the active support from the Hoa Vang District authorities, they have, to date, spent a total of 2.8 billion VND to develop their specialised growing area. Of this, 1.4 billion VND was funded by the district budget.
Early this year, Mr Thang and Mr Dan had started to build net houses to grow vegetables. After his growing area was put into operation, Mr Thang established the Hoa Vang District Vegetable and Fruit Cooperative which gained the Viet Nam Agriculture Practice (VietGAP) certificate from the GLOBALCERT Certification Joint Stock Company.
However, the Cooperative's products are only popular with local families. Mr Thang, therefore, would like the district authorities and local relevant agencies to help his Cooperative to expand its consumption markets.
Mr Nguyen Van Ly, Head of the Agriculture and Rural Development Office in Hoa Vang District, remarked that the local authorities have been working with representatives from the BigC Mall and the Mega Market Viet Nam Company to introduce them to the Cooperative's organic products. By using advanced technologies, hydroponics method in production activities, and growing vegetables in net houses, Cooperative's products will soon win more trust of people across the city and elsewhere in the country.
.