Strong growth of real estate market in northwestern side of the city
Published: August 30, 2017
The real estate market in the northwestern side of Da Nang is seeing strong growth.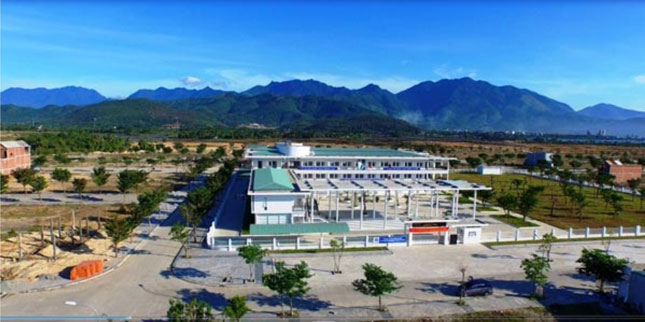 A view of the Dam Quang Trung Junior High School in the Golden Hills City urban area
The boom in the volume of real estate transactions in this location over recent years has been mainly attributed to the soaring number of traffic infrastructure and urban development projects.
Most notable amongst the recently-completed transport projects is the building of the extended Nguyen Tat Thanh Street, a section of a ring road on the southern side of the city running through the Hoa Phuoc and Hoa Khuong communes, and especially the 65km-long section between the city and Quang Nam Province's Tam Ky City.
Over recent years, satellite urban areas have been created in the northwestern side of the city, in combination with the deployment of large-scale projects. Included are the Lang Van resort and entertainment complex, the Kim Lien station, the Da Nang Hi-tech Park, and the soon-to-be-built Lien Chieu Port and the Da Nang IT Park project in Hoa Vang District's Hoa Lien Commune which has restarted after a long delay.
Appeals for domestic and FDI inflows into the Hi-tech and IT parks are being made, thereby helping the city to attract even more hi-tech experts from both home and abroad.
Over the next 10 years, the international-standard IT park is expected to create more than 25,000 jobs for domestic and foreign experts, engineers and workers, and to be a satellite urban area with over 100,000 residents. In addition, this zone's annual revenue is predicted to reach 3 billion USD. In deed, the construction of the new IT park will mark an important milestone in the development of the local IT industry, and that of the central region and highlands in general.
Given the development of urban development projects mentioned above and the cheap prices of properties, the real estate market in the northwestern side of the city is emerging as an attractive magnet for domestic and foreign investors.
Currently, many local married couples and young people, with medium incomes, are showing a keen interest in buying residential land lots, with each worth about one billion VND.
According to local real estate experts, next year is expected to mark a significant breakthrough in the growth of the real estate market in the city, and its northwestern side in particular.
Taking the advantage of the great development potential of the city's northwestern side, many prestigious real estate investors have poured their money into large-scale projects in Lien Chieu District. They are the Gami Group's Cham Riverpark, Trung Thuy Group's Lancaster Nam O Resort Da Nang, and the Trung Nam Group's Golden Hills City urban area.
.