Tourism properties gain strong growth
Published: August 29, 2017
In the 2nd quarter of this year, Da Nang's real estate market, especially tourism properties, grew strongly.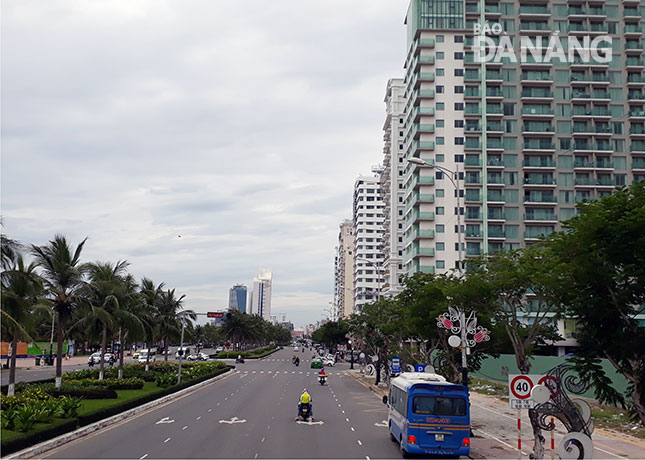 Tourism real estate projects along a local coastal route
Over recent years, domestic and foreign investors have taken advantage of the upcoming APEC Economic Leaders' Week 2017 (AELW) in the city from 6-11 November to develop even more tourism projects to satisfy the high demand for accommodation during this large-scale international event.
Most notably, the local condotel segment is now thriving, and it will continue its upward trend in the years ahead. Condotel project developers often use investment capital for their projects through a sale-leaseback transaction with their offered-property owners. Their fully serviced condominium bought as a vacation home can be then offered for short-term rentals on a hotel-type basis. Since appearing in the Vietnamese market, this real estate model has become the latest craze in the domestic real estate market because of its highly competitive advantage and its appealing profitability. The condotel model allows its developers to share the management and business risks with their customers. This explains the mushrooming popularity of this real estate segment in the city over recent years.
As part of the Cocobay Entertainment and Tourism Complex along Truong Sa in Ngu Hanh Son District's Hoa Hai Ward, 520 condotel rooms in the top-class Coco Ocean Resort and Spa have been recently put into use. This, thereby, has to date brought the total number of condotel rooms in the city to 6,715.
According to a recent report released by real estate consultancy firm CBRE Viet Nam, 5 new tourism projects, together offering a total of around 1,350 condotel rooms, are expected to come into use in the last 2 months of this year. In the next 2 years, the total number of condotel rooms in the city is likely to hit 9,000.
According local real estate experts, the boom in the number of the city's condotels over recent years has been mainly attributed to soaring tourism growth. In particular, between January and June the number of tourist arrivals jumped by 33.2% against the same period last year to hit over 3.2 million.
Currently, there are a total of 14,255 villas, resort and condotel rooms available in the city, and this figure is expected to climb to 32,021 by 2020. However, given the current rate of development, supply may soon exceed demand for condotels in the city.
Despite optimism around the growth of tourism that the condotel proliferation suggests, the rapid growth of this segment has already resulted in several tax and legal issues, according to insiders. In reality, some developers nationwide have failed to declare the real functions of their units, while others have given misleading information about their ownership to buyers, according to the department.
Many other developers have also been caught not declaring taxes on rental contracts. Similarly, many condo unit buyers also refuse to declare taxes when they lease their properties to third parties.
In an attempt to deal with these matters of deep concern, the municipal government recently urged relevant local agencies to jointly develop the city's regulations about the management of construction investment and the operation of projects offering tourist villas and condotels in the city.
.