Ariyana Da Nang convention centre officially opens
Published: October 16, 2017
The Ariyana Convention and Exhibition Centre (ADECC) to the south of the Furama Villas Danang and Furama Resort Danang officially opened its doors on 15 October in the presence of Prime Minister Nguyen Xuan Phuc.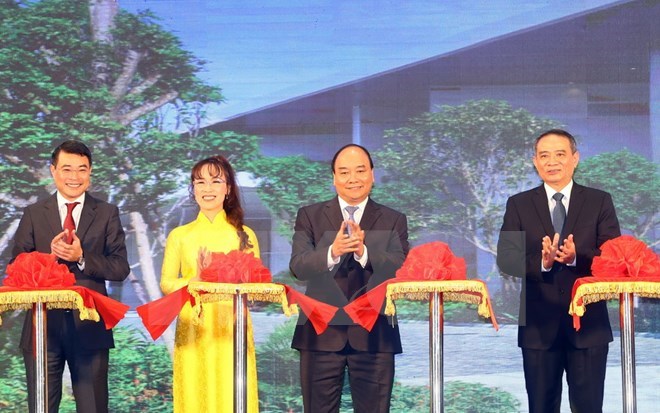 Prime Minister Nguyen Xuan Phuc at the opening ceremony (third from left) (Source: VNA)
The centre is a key project to serve the APEC Economic Leaders' Week scheduled to take place from 6-11 November.
The construction of the centre started in March 2016 and it was completed ahead of schedule after 22 months.
As part of the 5-star Ariyana Danang Tourism Complex, the 350 billion VND ADECC covers an area of 5,500m2, giving a total floor area of 12,000m2. The 3-storey centre's main meeting hall will be able to accommodate up to 2,500 guests in total. The centre is located in a spacious space like a tropical garden when it is surrounded by many different kinds of colourful flowers and plants.
Leaders from 21 APEC member economies, together with around 10,000 domestic and foreign delegates, including corporate executives in the region and the world, are expected to attend events during the week.
(Source: VNA/ DA NANG Today)
.