City's tourism development plan pays off
Published: October 12, 2017
The improved tourism environment, high-quality services and excellent promotion campaigns have helped Da Nang attract a growing number of visitors.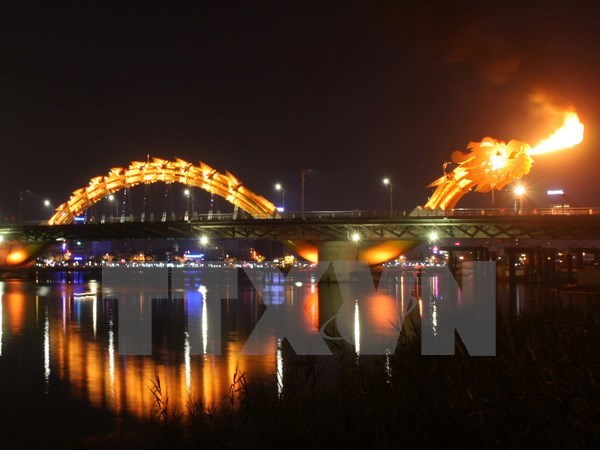 The Rong (Dragon) Bridge is one of Da Nang's tourist attractions
The city has welcomed over 5 million travellers in total since the start of this year, a year-on-year surge of 22.7% and accounting for 81.7% of the year's plan. In particular, nearly 1.8 million of them were foreigners, up 49% from the same time last year.
It raked in over 15 trillion VND (660.2 million USD) from tourism services, rising 24.4% year on year, and fulfilling 81.8% of the yearly plan.
Da Nang's images have been brought closer to both domestic and international tourists through its promotion programmes via the municipal portal and social networks, as well organising tourism fairs in Ha Noi, Ho Chi Minh City, and foreign countries.
Tourism maps in English, or brochures in Korean and Japanese are now available for foreigners. In addition, the free mobile app - Danang FantastiCity - has been launched to provide travellers with detailed schedule of events taking place in the city, tourist attractions, entertainment, cuisine, accommodations and public toilet maps.
Apart from releasing tourism code of conduct to local accommodations and tourist destinations, the municipal Department of Tourism has joined its efforts with relevant local agencies to stop the harassment of tourists in the city..
Furthermore, the Department has increased the city's promotion campaigns in key markets like Japan, South Korea, China and Southeast Asia, plus other potential ones including France, Germany, the UK and India.
It also inked a cooperation deal with the Da Nang International Airport to increase number of arrival and departure flights. To date, a total of 29 direct routes between Da Nang and foreign localities have been operated.
As the city is hosting the APEC Economic Leaders Week in November, the Department of Tourism plans to organise a wide range of programmes to promote its tourism potentials.
Various tours have been designed to serve APEC delegates and international journalists. Included are the tours to local popuar attractions such as Marble Mountains, Museum of Cham Sculpture, the Son Tra Peninsula, the Ba Na Hills Resort and the Han River.
Regional tours are also offered, connecting Da Nang with its neighbouring localities, such as Hoi An City - a UNESCO-recognised World Heritage Site - in Quang Nam Province, and Hue Citadel in Thua Thien-Hue Province.
Short video clips featuring Da Nang are being screened at LED monitors along the city's streets, whilst the city's tourism information is also available at the Da Nang international airport.
Furthermore, the city has asked tourism businesses to stablise their service prices during the APEC Economic Leaders Week.
(Source: VNA/ DA NANG Today)
.