Effective solutions to traffic congestion revealed
Published: October 11, 2017
Da Nang People's Committee Vice Chairman Nguyen Ngoc Tuan recently approved plans for implementing comprehensive solutions to prevent future possible bad traffic situations across the city by 2020.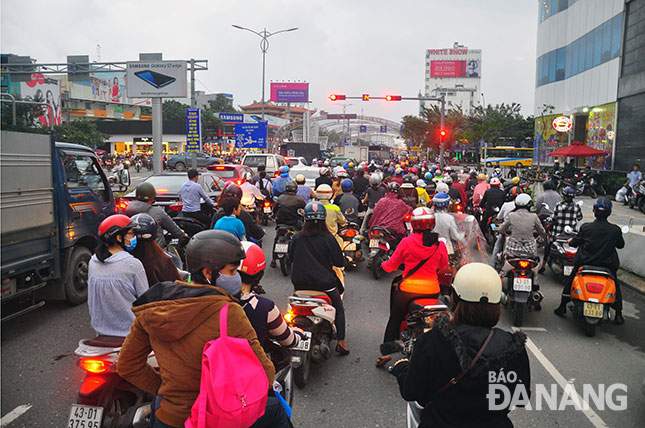 A flow of traffic stopping at red light in Nguyen Van Linh
Over recent years, traffic congestion has been increasing in the city, especially during rush hours. Although in Da Nang the problem is not as bad as in Ha Noi and Ho Chi Minh City, it has recently occurred during rush hours along some of Da Nang's main streets.
The main reason seems to be that there has been a dramatic increase in the number of personal vehicles which are considered as one of the important causes of traffic congestion in this city.
By late last year, there had been 61,210 registered cars and 807,430 motorcycles in total across the city. According to calculations made by relevant local agencies, the average annual growth rate of Da Nang's vehicles is between 8.58 and 10.46%. It is expected that, by 2020, the use of personal vehicles in the city will account for over 90% of the city's total travel demand.
In reality, the current pace of infrastructural development might not catch up with the rapid increase in population, and thus in the volume of personal vehicles.
In an attempt to promptly address traffic congestion before it become worse in the coming years, the city authorities will focus on implementing specific solutions for the 2017 - 2020 period.
Importance will be attached to upgrading the local traffic network, with an emphasis on establishing major traffic axes including overhead and underground traffic, and effectively conducting traffic arrangement activities.
Work will start next year on the upgrade of the intersections on the western ends of the Rong (Dragon) and Tran Thi Ly bridges.
The same construction work at the intersections between 2 September, Xo Viet Nghe Tinh and western approach to the Tien Son Bridge, and between Nguyen Huu Tho and Le Dai Hanh streets will be completed by late next year.
A smart traffic monitoring system will be developed on the build-transfer (BT) basis. More traffic surveillance cameras will be installed at local junctions and along major streets in order to monitor and deal with traffic violations.
Appeals for domestic and foreign investment inflows will be made to construct more parking areas, including multi-storey car parks, with the priority given to inner-city and coastal areas.
Special heed will be paid to organising one-way traffic, only allowing 4-wheeled vehicles to park along certain streets either on odd dates or even dates, banning passenger coaches from parking at some inner-city areas, and taking other traffic arrangement measures.
.