Goods worth over 56.2 billion VND to be ready for stormy season
Published: October 04, 2017
According to a spokesperson for the Da Nang Department of Industry and Trade, a total of 9 local businesses have signed their commitment to spend over 56.2 billion VND in total stocking up on essential goods in preparation for the forthcoming stormy season.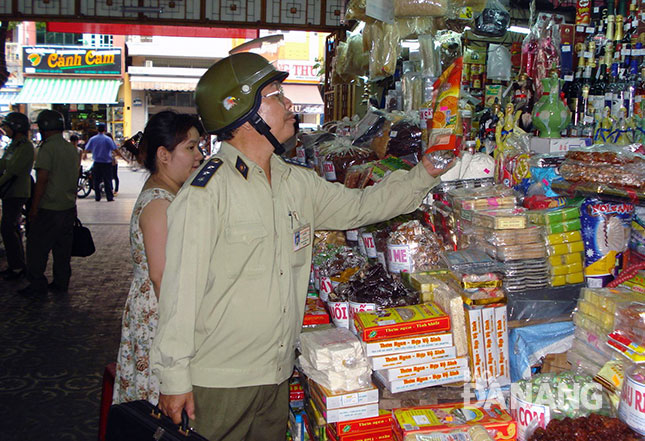 An employee from the local Market Management Bureau checking a stand selling goods
Amongst of these businesses are the Mega Market Viet Nam Company, the Vincommerce General Trading Service Joint Stock Company, the Da Nang Food Company, the BigC Mall, the Co.op Mart and the city's branch of the Viet Nam Industrial Livestock Production (VISSAN).
A wide range of stored essential food products include around 141,000 cartons of instant noodles, 195 tons of rice and glutinous rice, 24,300 cartons of water bottles, and 390 tons of other items.
Mr Nguyen Ha Bac, the Department's Deputy Director, remarked that his Department has asked the registered businesses to ensure sufficient supplies of essential goods for the stormy season to meet the demand of local residents.
However, some local businesses are facing a shortage of capital for stockpiling and keeping essential items in good condition. Therefore, they are asking for assistance from the local authorities to partly cover their costs of goods storing and transportation during the season.
Deputy Director of the city's branch of the Co.op Mart Le Thi Hien said that the focus will be on ensuring sufficient supplies of essential goods for local residents in the case of natural disasters, and guaranteeing that their prices will remain unchanged compared with normal days.
Recently, the Department has developed plans for coping with any unexpected natural disasters. Special attention will be paid to frequently checking necessary equipment of the Department's Steering Committee for Natural Disaster Prevention, and Search and Rescue, such as cars, life jackets, rain boots, flashlights, storm lamps and fax machines. Importance will be attached to supplying enough food and fresh water for around 120,000 people in flood-hit areas within 3 days.
In addition, staff of the municipal Market Management Bureau will increase their checks, and make every effort to ensure that the goods will be sold at the displayed prices. In particular, stricter penalties will be imposed on those who increase prices of essential items excessively due to the scarcity of goods to generate illicit profits.
.