Logistics preparations for APEC leaders' week completed
Published: October 17, 2017
All logistics preparations for the 2017 APEC Economic Leaders' Week (AELW) in Da Nang from 6-11 November have been basically completed.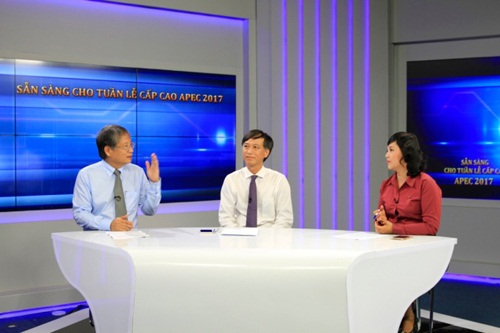 Deputy Head Thanh (middle), Vice Chairman Tuan (left) at the online seminar
The statement was jointly confirmed by Deputy Head of the APEC 2017 National Secretariat Nguyen Tat Thanh, and Da Nang People's Committee Vice Chairman Nguyen Ngoc Tuan, at a recent online seminar in the city themed 'Ready for AELW 2017'.
AELW 2017 is expected to be attended by the leaders of the 21 APEC member economies, along with 10,000 domestic and foreign delegates, including representatives from big groups and international organisations all over the world. This international large-scale event will offer a golden opportunity to advertise the image of Da Nang, and that of Viet Nam as a whole, to international friends.
Deputy Head Thanh highly lauded the authorities and people of Da Nang for ensuring good preparations for AELW 2017.
Vice Chairman Tuan gave high praise to local businesses for their active engagement in developing construction projects serving AELW 2017. In addition, the businesses are focusing on advertising their high-quality products and offering big discount programmes. Local residents are considered to be enthusiastic and friendly cultural and tourism ambassadors for their city. This, thereby, will help Da Nang secure its image as a civilised, friendly and hospitable city.
Vice Chairman Tuan also noted that, in recent days, Da Nang has experienced the erratic weather change as rain squalls alternate with sunshine. Relevant local agencies, therefore, have taken preventive measures to handle any unexpected incidents during AELW 2017. Local traffic arrangement plans during this highly important event will be widely publicised amongst the general public very soon.
A total of 750 qualified volunteers and those who will be involved in information publicity activities for AELW 2017 have been selected. Da Nang has taken the advantage of this event to enhance local infrastructure system, advertise the city's allure, promote the quality of human resources and facilitate businesses to develop their brand names.
The Da Nang General Hospital has also joined efforts with the BNH International Hospital of Thailand to conduct first-aid training for staff members of 18 local resorts and hotels involved in AELW 2017.
The local authorities have also coordinated with the APEC 2017 Materials and Logistics Sub-Committee to prepare parking space for a total of about 1,600 cars serving the event.

.