More help needed for developing organic food production
Published: October 06, 2017
Taking the advantage of the growing consumer demand for organic agricultural products in Da Nang with its total population of over 1 million, many local businesses have embarked on developing organic vegetable production and supply activities. However, some of them are now facing some difficulties relating to production and business premises, investment capital and other matters.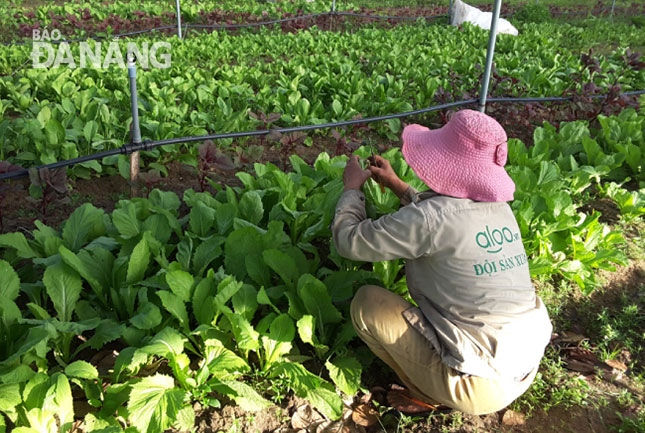 A view of Mr Anh's organic vegetable growing area
Mr Phan Tuan Anh, the Director of the city-based Hoang Phuc company said that, last year, he rented a 1ha of land in Hoa Vang District's Hoa Khuong Commune to grow organic vegetables, and raise poultry and livestock to supply safe food for local consumers.
Currently, Mr Anh's own farm, worth nearly 1 billion VND, is home to dozens of types of poultry and livestock, and over 20 types of vegetables and fruits, together serving about 100 local families in total.
In addition to the farm, a store selling healthy organic food products has been opened at the company's headquarters at 6 Phan Dang Luu.
Mr Anh said that he is need of desperate need of between 30ha and 40ha of land in a bid to pursue his dream of establishing a large-scale area for growing organic vegetables and conducting animal husbandry activities.
In addition to ensuring safe food supplies to consumers from the city and its neighbouring localities, this intended area is expected to be attractive to locals and visitors, especially pupils in the city-inner, to learn more about types of animals and plants.
Another enthusiast in running organic food business projects is Mr Tran Quang Minh, the Director of the Gala Viet company.
He said that business promises with a large quantity of natural resources, along with their favourable geographical positions indeed play a vital role in doing business in this challenging but interesting aspect.
2015, Mr Minh joined with his peers to develop an over 1,000m2 agricultural area in Da Lat at a cost of over 1 million VND. Every month, this growing area supplies a total of about 400 tonnes of fresh and clean vegetables to such localities as Da Nang, Da Lat and Ho Chi Minh City.
The city authorities plan to give the go-ahead to the establishment of a local hi-tech agricultural production area of between 100 and 200ha where local businesses can register to do their organic food production.
.