Visitor numbers to the city hit over 5.1 million in 9 months
Published: October 09, 2017
According to a spokesperson for the Da Nang Department of Tourism, the city welcomed a total of 5,150,109 domestic and foreign visitors between January and September, an increase of 22.7% compared with the same period last year, and representing 81.7% of the year's target. In detail, 1,766,226 of them were foreigners, whilst the remainder were domestic visitors.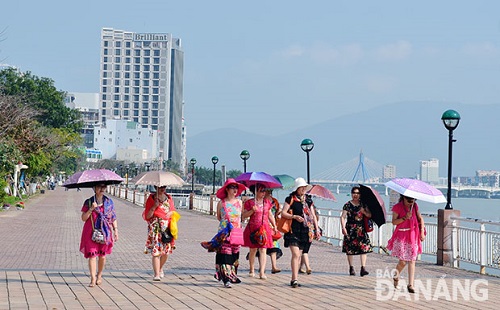 Foreign visitors walking along Bach Dang Street riverside promenade
As a result, the city earned about 15,141.32 billion VND in revenue, up by 24.4% against last year, and fulfilling 81.8% of the year's target.
During that period, the number of international air passengers to the city reached 1,171,125, double that of last year. Meanwhile, the number of Thai and Lao visitors to the city by road hit 11,670. In addition, the city received 52,403 foreign passengers from 45 cruise ship arrivals, up by 24.5% in comparison with the same period a year ago.
.