Young entrepreneurs with strong ambition of developing brand names
Published: October 14, 2017
Ever since national liberation in 1975, many businesses in Da Nang have strongly affirmed their positions in their domestic and foreign consumer markets, and their good-quality products have won more trust of their consumers from both home and aboard. Most notable amongst them are the Hoa Tho and 29 March textiles and garments companies, the Da Nang Rubber Company, and the Thuan Phuoc Seafood and Trading Corporation.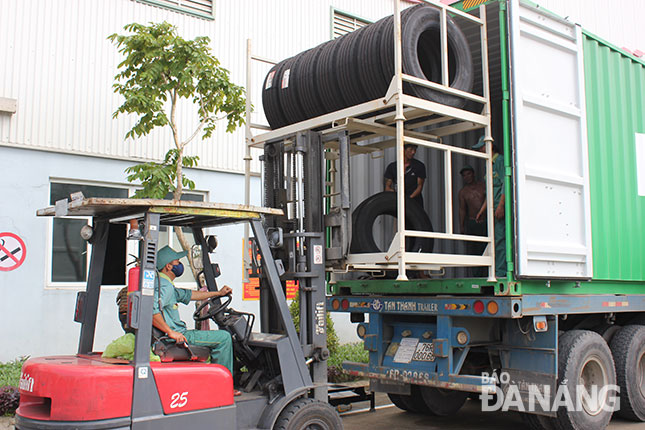 Workers at the Da Nang Rubber Company
Following in successful businesspeople' footsteps, many young entrepreneurs are now doing their utmost to develop brand names for their own businesses with a stronger ambition of advancing to the domestic and even ASEAN regional markets in the future.
45-year-old Le Thi Nam Phuong, the Chairwoman of the Board of Directors of the SKY-LINE High-quality Educational System, shared some of the difficulties she and her partners faced when they embarked upon the start-up path to develop a high-quality educational system.
She remarked that she has made every effort to apply new technologies and expand her business activities in order to bring high economic efficiency. Special attention has been paid to conducting research and developing new products to meet the high demand from the local market. In addition to promoting the development of its business activities, her school has enhanced its corporate social responsibility over recent years, with a focus on becoming actively involving in numerous local social activities.
Ms Phuong remarked that her school is giving the top priority to developing its high-quality educational systems for the benefit of children who will hold the country's future in their hands, and especially they will play a vital role in boosting their country's global integration.
41-year-old Le Tri Hai, CEO of the Toan Cau Xanh company (Green Global Co Ltd), is also one of the local standouts amongst a sea of entrepreneurs who have shown commitment, determination, and certain recklessness in the pursuit of their life-long aspirations. The strong-willed man said that he set up his company in 2008 with its initial charter capital of only 200 million VND.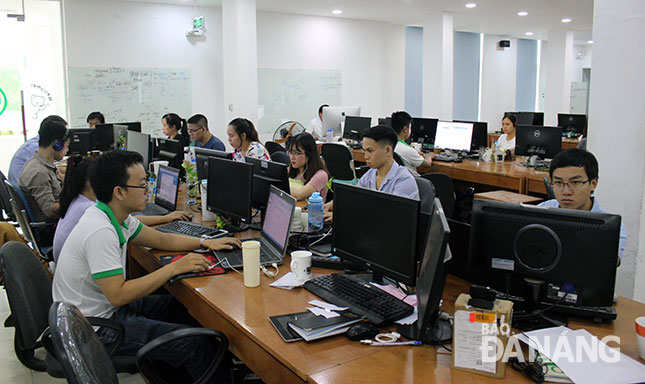 The professional working environment at the Green Global Co Ltd
With his great efforts to pursue his strong start-up ambitions, his company's business performance has thrived significantly over recent years. Most notably, his company is expected to generate this year's record revenue of 2 million USD.
Green Global is now one of Da Nang's few businesses participating in many big projects in the world's IT hubs, including the USA, the Netherlands and Japan. Interestingly, Mr Hai is always strongly proud of being a Da Nang entrepreneur as he is asked where he comes from during his overseas business trips.
The General Director of the BQ Shoe Company, Mr Phan Hai, is a good example for other start-up lovers to follow. Mr Hai risked everything to grow his start-up businesses, but he has managed to accomplish his dream despite the many potholes on his road to success.
Thanks to his hard-working spirit and strong determination, his company now has a strong position in the markets at home and abroad. The BQ Shoe Company has expanded its business activities into other localities nationwide, and established a branch in Laos.
Mr Hai remarked that the best way to ensure a harmony between the benefit of local businesses and the city's sustainable growth is to promote mutual support and consensus between the business community and the city authorities. He hoped that the city authorities would continue their efforts in creating a fairly competitive investment environment, enhance administrative reforms, and issue more support polices for local businesses in the years ahead.



.