Fostering development of city's fisheries in more modern manner
Over recent years, thanks to many fisheries support policies released by the national and municipal governments, many fishermen in Da Nang have taken the initiative to build new high-capacity fishing vessels with the hope of more profitable offshore trips, hereby earning a living to support their families. Noticeably, long fishing trips to Vietnamese waters, indeed, partly help to safeguard the nation's sovereignty over its territorial waters and its traditional fishing grounds.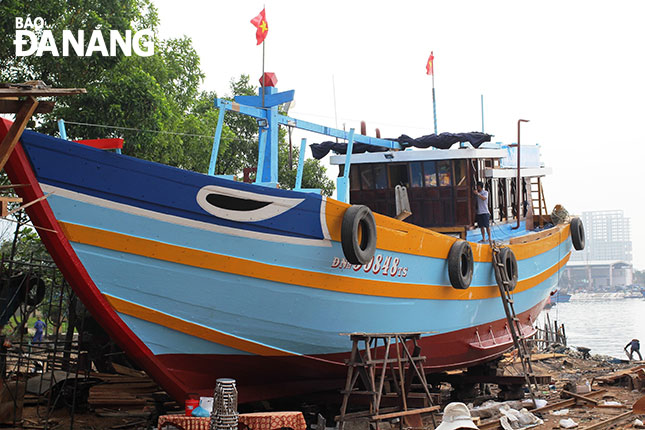 Since the release of local fisheries support policies, many fishermen in Da Nang have taken the initiative to build new high-capacity fishing vessels
Da Nang is one of the country's pioneering localities in implementing policies on supporting fishermen to build high-capacity boats for offshore fishing.
In particular, on 29 August 2012, the Da Nang authorities issued Decision No 7068/2012/QD-UBND on helping fishermen build their new fishing boats.
Following the Government Decree No 67/2014/ND-CP on incentives to support the fisheries development on 7 July 2014, the municipal authorities on 12 December 2014 issued Decision No 47/2014/QD-UBND regarding fisheries development policies which allow fishermen to access loans for building new boats.
Under the Decision No 47, local fishermen receive 500 million VND from the city's budget for building 400CV to 600CV fishing boats, 600 million VND for building 600CV to 800CV boats, and 800 million VND for building 800CV and above boats. In addition, boat owners enjoy exemption from registration fees.
Thanks to the support policies mentioned above, the city has seen a sharp rise in the number of high-capacity fishing vessels.
So far this year, there have been a total of 583 fishing vessels with a capacity of 90CV or higher, 11 times higher than 2003 and 2.8 times higher than late 2013, of which 75% are ships with a capacity of over 400CV.
Particularly, notable amongst them are multi-functional ships with a capacity of over 1,300 CV which are designed to catch seafood and supply essential provisions for other fishing boats already operating at sea.
According to Ms Tran Thi Thanh Tam, the Chairwoman of the Son Tra District People's Committee, this location has seen tremendous changes in the restructuring of the fisheries sector.
Fishermen across the district are being encouraged to build new fishing vessels with a capacity of 400CV or higher to ensure more profitable offshore trips to the national waters.
Mr Nguyen Do Tam, the Deputy Director of the municipal Department of Agriculture and Rural Development, remarked that, over the past decade, many local fishermen have taken the initiative to access advanced foreign seafood catching, processing and preserving techniques to ensure the absolute top seafood quality.
With the help from Japanese experts, a flake ice making machine has been installed onboard the boat DNa 90945 owned by Dao Ngoc Minh Tam from Thanh Khe District. Rapidly cooling the caught fish and preserving its peak freshness, flake ice is the best choice for use in the fisheries industry due to its quick chill properties and versatility.
Amongst the most experienced and popular fishermen in the city is Le Van Sang from Hai Chau District's Thuan Phuoc Ward who possesses fishing and fisheries logistics vessels with a capacity ranging from 800CV to 1,290CV.
In addition, Sang has also set up a fisheries logistics cooperative, and a processing factory to ensure supplies of high-quality seafood products for localities nationwide.
.