Promoting tourism and investment in Qatar
As part of their ongoing working trips to Qatar and South Africa to promote tourism and investment there, a delegation of Da Nang's leaders, led by municipal Party Committee Deputy Secretary Vo Cong Tri, met with some representatives from the Qatar Airways, and businesses in Qatar's Doha City, on Monday.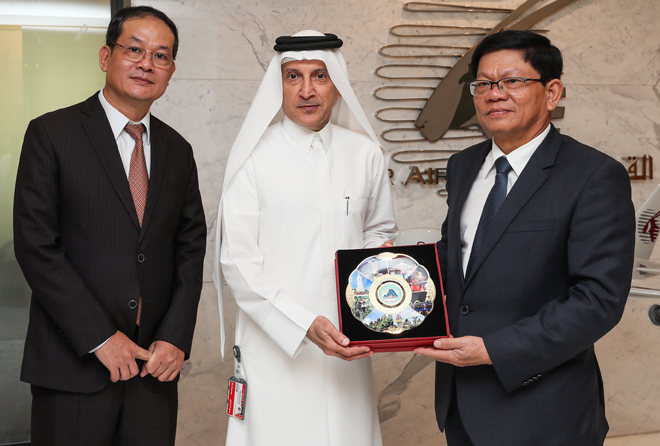 Deputy Secretary Tri (right) and Qatar businesses
Also present at the meeting was Vietnamese Ambassador to Qatar Nguyen Dinh Thao.
During his meeting with the Qatar businesses, Deputy Secretary Tri introduced them to his city's great potential for investment activities and tourism development. He also took the opportunity to thank Qatar Airways and businesspeople in Doha City for their keen interest in his city.
Mr Tri also pledged to facilitate Qatar businesses to learn about the city's investment climate.
In reply, Mr Akbar Al Baker, Chief Executive Officer of Qatar Airways, affirmed his agency is willing to help Da Nang advertise its beautiful images and its inviting attractions to its air passengers from 150 destinations in Qatar' airline network, especially those from Europe and North America.
He added special attention would be paid to promoting the implementation of some investment projects in Da Nang.
Also at the meeting, a representative from the municipal Department of Tourism introduced Qatar businesses to the city's popular attractions.
In addition, the Da Nang visitors, and representatives from Qatar Airways and travel agents, together discussed about effective ways to advertise the city's attractions, develop tourist products, and promote the publicity of Da Nang's image to travellers from Qatar, and European and North America countries, especially German, French, British, Italian, and Spanish visitors who are enjoying visa exemptions in Viet Nam.
Qatar Airways was named 'Airline of the Year' by the 2017 World Airline Awards, managed by international air transport rating organisation Skytrax. It was voted 'World's Best Business Class', 'Best Airline in the Middle East', and 'World's Best First Class Airline Lounge' by many air passengers.
.