New investment to give Nguyen Tat Thanh coastal route tourism makeover
January 10, 2019, 11:16 [GMT+7]
The Da Nang administration-approved project to develop beach tourism services along the Nguyen Tat Thanh unique arch-shaped route over the 2018 – 2020 period is now progressing well.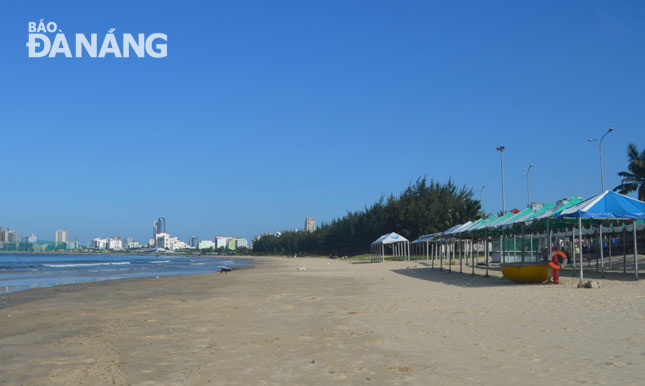 Despite their beauty, beaches stretching along the Nguyen Tat Thanh coastal route have yet to lure many tourists due to a shortage of public utilities for swimmers
The deployment of the 46 billion VND (2 million US$) project started in the 2nd quarter of last year, with the hope of fully tapping the great potential of the city's coastline stretching over a distance of 9km along this coastal route, hereby luring more locals and visitors from both home and abroad to marvellous beaches there.
Under the project, the whole makeover is being conducted in a bid to give a more attractive face to the 7 beaches stretching along Nguyen Tat Thanh route, namely Xuan Ha, Phu Loc, Ho Tung Mau, Tran Dinh Tri, Nguyen Chanh, Nam Xuan Thieu and Nam O.
For more details, focus are being placed on installing lighting systems for pavements and service clusters, upgrading the existing embankment, creating paths leading to beaches for motor vehicles, installing water supply and low voltage power supply systems, building public toilets, and creating green-covered areas.
Besides, a wide range of public utilities for swimmers are being offered.
Included are 34 stone benches along sidewalks where people can sit to relax or sightsee, a total of 8 sets of single and double beams, 4 football fields, 12 volleyball courts and coloured beach umbrellas.
In addition, the Ho Chi Minh City-located Green Hope Trade Service Training and Investment Company and the city-based Ecosea company will submit their plans to develop general service cluster along the coastal route to the municipal government for approval.
Furthermore, heed is being paid to providing more rescue equipment and tools for lifeguard teams on duty at these beaches, and maintaining marine security and environment as well.
To make the Nguyen Tat Thanh coastline quite different from other local coastal routes, this area is being refurbished and developed towards the community-based tourism model which has been applied successfully in Boracay Island in the Philippines, a paradise for certified sun-worshippers all over the world.
Many residents living nearby said they hoped that beaches along the Nguyen Tat Thanh Route would be given a 'new coat', thereby making them more inviting as those stretching from the East Sea Park to the T20 beach area.
In order to create make marvellous beaches along the Nguyen Tat Thanh route more inviting, through the above-mentioned project, the local tourism industry is targeting to create tourism products highlighting distinctive regional characteristics, social responsibility and the special culture of the local inhabitants.
In particular, the soon-to-be-developed general beach service clusters will stretch from the Xuan Thieu tourist area to the Nam O Beach.
The clusters will comprise of drinking and eating counters, souvenir shops, water sports providing establishments, dressing rooms, fresh water showers, locations for organising festive events and camps, playing areas for children, beach bars and other related service areas.
Despite their beauty, beaches stretching along the Nguyen Tat Thanh coastal route have yet to lure tourists due to relatively poor investment in coastal accommodations, tourism services, entertainment centres and transit connections.
.