Surge in Tet holiday tour bookings
January 12, 2019, 12:17 [GMT+7]
Lunar New Year, or Tet, is the most popular traditional festival of the year in Viet Nam, and it is the occasion for family reunions.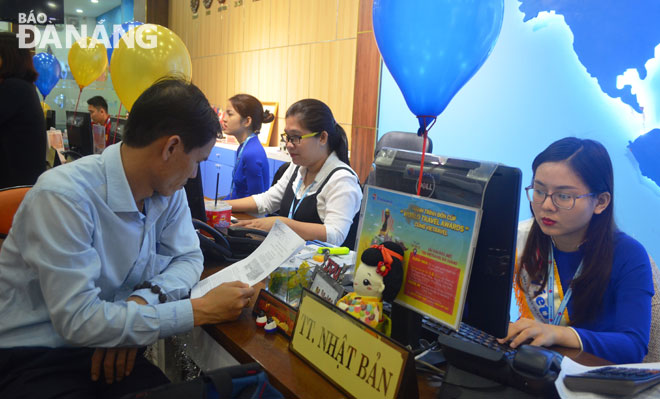 A client learning about Tet tours offered by a local travel agent.
In recent years, Da Nang has seen an upward trend in the number of tour bookings for Tet because many people begin to consider the holiday as a time for relaxing after a year of hard work.
This year, public sector employees nationwide will have 9 days off work for the upcoming Tet Festival, from 2 to 10 February.
Thanks to this, many of the city- based travel agencies are now taking advantage of the expected increase in demand for travel by offering various domestic and foreign tours.
According to some travel agencies, the number of bookings for domestic and foreign tours over the upcoming holiday is likely to go up by 40% and 60% respectively compared with the same period last year.
With just around one month to go to the Tet Festival, the family of Mr Nguyen Tuan Vu residing in Hai Chau District's Hoa Cuong Nam Ward has recently spent more time on learning about some outbound tours.
Mr Vu noted his family planned to visit their relatives in the 1st and 2nd days of the Lunar New Year. After that, he will travel to Japan to enjoy relaxing moments with his family members after a hard year's study and work.
Mr Doan Hai Dang, the Director of the city's branch of Vietravel, remarked since early November 2018, his company has offered more than 300 domestic and foreign tours with many attractive promotional programmes.
"Our company has worked closely with airlines and tourism service providers at both home and abroad in order to offer high-quality Tet tours at reasonable prices to our clients", he added.
He adviced that travellers should book tours as soon as possible in a bid to actively choose suitable schedules and hunt tours at reasonable prices.
Most recently, many overseas tours to such countries as Japan, South Korea, Taipei and Taiwan have seen a significant increase in the number of bookers.
The Deputy General Director of the Da Nang-based Viet Nam Tourism Joint Stock Company (Vitours), Mr Le Tan Thanh Tung, said the prices of both domestic and foreign tours over the Tet holiday will go up by between 10 and 30% in comparison with normal days. The main reason is thought to be that there will be a hike in the prices of air tickets, and transportation and accommodation services in these days leading up to Tet.
"Over the upcoming holiday, the city is expected to welcome a growing number of foreign visitors thanks to the opening of new non-stop flights connecting Da Nang with some destinations worldwide, including Japan, South Korea and Western European countries" Mr Trung underlined.
.