Ba Na Hills Director unveils bold plans for VN's leading tourist zone
April 11, 2019, 09:18 [GMT+7]
A wonderful carnival in June. Attractive works and things promise in the near future. Nguyen Lam An, Director of the Sun World Ba Na Hills unveilds bold plans for Ba Na on the occasion of the tourist complex's 10th anniversity.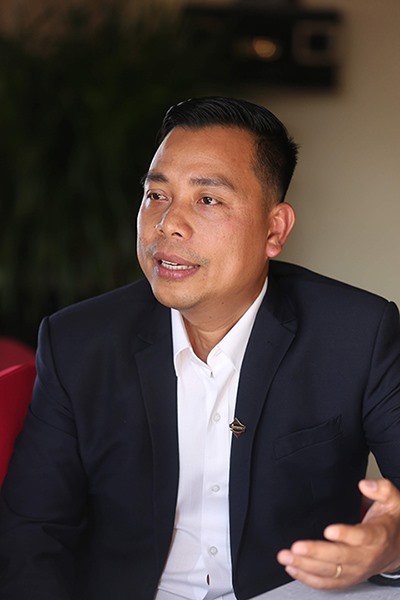 Nguyen Lam An. VNS Photo
Ba Na Hills is the first project of Sun Group in Viet Nam when the group invested in Viet Nam in 2007. At that time, Ba Na was still a fog-capped mountain, welcoming just a modest number of tourist arrivals, estimated at around dozens of thousands per year, mainly domestic tourists.
With the invitation of the Da Nang City People's Committee, Sun Group invested to development Ba Na – Suoi Mo Carble Car Line 1 with the despite to awaken the potential of Ba Na. Just one year of construction, the cable car system went officially operational on March 25, 2009, opening a new chapter in the history of Ba Na.
Right in the first year of operation of the cable car system, the number of tourists arrivals to Ba Na increased significantly. Tourists comming to Ba Na rose by 160 times during 2009-18 period. Since then, Ba Na constantly changed, more beautiful, more modern and more attractive each day.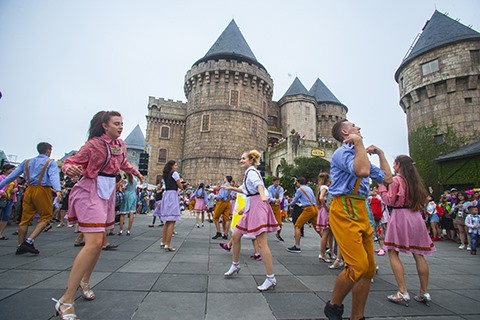 A tourist at Ba Na. VNS photo
During the past ten years of operation, Sun World Ba Na Hills was honoured to the leading tourist destination in Viet Nam in four strait years by the Viet Nam National Administration of Tourism.
Ba Na promises an attractive world for tourists with a 21,000 square metre in-dooor amusement zone Fantasy Park, the cable car system L's Indochine – Toc Tien Waterfall earning four world records of the world, finicular tour, French village dubbed "Little Paris", four-season booming Le Jardin d'Amour flower garden, Viet Nam's largest wax museum, Debay wine cellar through Ba Na Moutain, the world most romantic hotel Mercure Ba Na Hills French Vilage together with around 20 classy restaurants.
Especially, with the opening of golden bridge in June, Da Nang became more well-known in the world. Sun World Ba Na Hills is now ranking in the top 23 recreation zones with the largest tourist arrivals in the world and in the top 11 in Asia.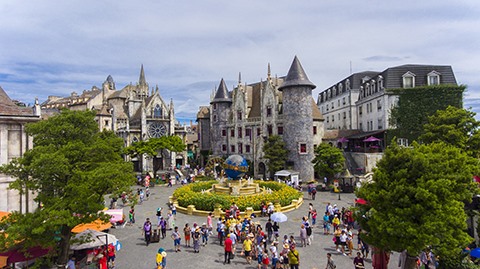 French village at Sun World Ba Na Hills. VNS Photo
What makes Ba Na Hills different, in your opinion?
There area a number of factors which make Ba Na different and attractive. However, all could be summed up in three points.
First, Ba Na always attract special attention to quality, class and originality in accordance to Sun Group's development orientations for every of its project. Any developments in Ba Na all meet requirements and carry its own imprints, even the cable car line No 1 which was the first being developed. Notable developments are Fantasy Park, Beer Plaza or Golden Bridge.
Second, we always focus on renovations from the appearance to our products and services to bring amazements and different experiences to tourists every time coming to Ba Na.
Talking festivals alone, it is already attractive at the Sun World Ba Na Hills. Flower festival in spring. Beer festival B'estival in summer. Wine festival in autumn. Halloween and winter festivals in winter.
Last year, Ba Na Hills organised "Sun King Banquet" summer festival for the first time with the participation of many great artists from Europe and Brazil. In 2019, Ba Na surprises tourists with the largest ever tulip festival with more than 1 million tulips in all colours.
Third, Sun World Ba Na Hills is the tourist complex pioneering in protecting the environment, building "hello" culture, offering caring services to disable tourists, which altogether create class, difference, and attractiveness for Ba Na Hills.
An old tourist receives help from staffs of Ba Na Hills. VNS
Poor and simple products are one of the weakest points of Viet Nam tourism? How does Ba Na Hills attract tourists to come back?
As I have said, innovation is one of the secret for success of Sun World Ba Na Hills during the past ten years and we will continue to renovate ourselves to attract more tourists.
Ba Na Hills in the future will be more attractive with new developments such as a castle on the top of Ba Na, five-star hotel Mgallery Ba Na (expected to be opened in 2020).
Specially, in June, the complex will make debut a carnival which promises no less attractive than any street art show in Disneyland with the participation of world renowned artists.
Our effort is made up by the constant growth in the number of tourist arrivals every year. It is also the impetus for us for more innovation to make Sun World Ba Na Hills a must-go destination for both domestic and foreign tourists.
(Source: VNS)
.