Details on Marina Complex project unveiled
April 18, 2019, 17:30 [GMT+7]
The Da Nang Department of Construction on Wednesday issued a press release about the Marina Complex project in Nai Hien Dong Ward, Son Tra District.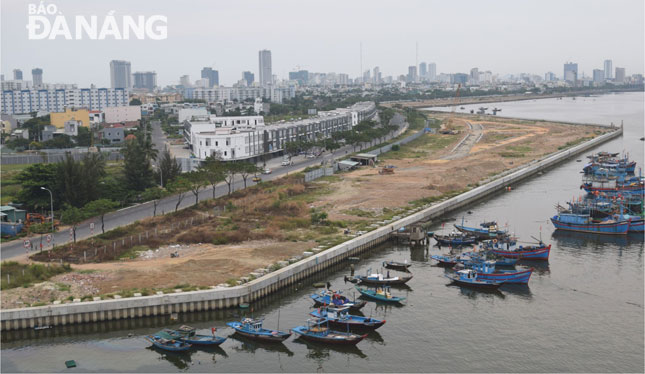 A corner of the Marina Complex project
The Marina Complex was first approved by the municipal People's Committee on 26 January, 2011, with the planned project boundary stretching from the edge of the Man Quang embankment system towards the western bank of the Han River.
At that time, the Da Nang Marina Co Ltd-developed project was allowed to cover a total area of 17.55 ha, including 10.55 ha of land and 6.3 ha of water surface, and featuring 13 high-rise tower blocks, and yacht maintenance facilities.
Afterwards, the VinaCapital Group transferred the shares of the Da Nang Marina Co Ltd to the Quoc Cuong Gia Lai JSC to continue employing the project.
After many adjustments approved by the municipal administration, more recently in September, 2017, the total area of the project has been decreased from 17.55ha to 11.73ha which include 10.73ha of land, 1 ha of water surface, and a pier for tourist boats.
The complex is now permitted to feature only 2 tower blocks of between 16 and 33 storeys, and 57 villas, thereby reducing pressure on the social and technical infrastructure in this area.
The planned area for parks and green-covered locations has been increased from 7,065m2 to 2.44ha.
Besides, there will be an 8m-wide public riverside walkway, and no fences and entrance gates to the complex will be built to allow public access to the riverside space.
The environmental impact assessment report for the project was approved by the municipal government on 27 October 2017.
To date, the project developer has completed the technical infrastructure construction to the east of Le Van Duyet Street and the building of shop houses under the municipal administration-granted construction permit.
Meanwhile, the riverside area to the west of Le Van Duyet Street has been leveled and embanked. Besides, the construction of such technical infrastructure items as internal roads, water supply and drainage systems is now underway.
.